Scrap handling growth in Amsterdam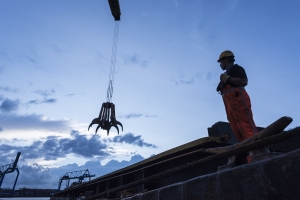 (Posted on 28/08/18)
The export of scrap from the port of Amsterdam is growing steadily. About 600,000 tons of scrap was exported in 2013 and by 2017 exports have increased to 1.6 million tons.
Amsterdam based Maja stevedores plays a significant role in the handling of the export of steel scrap. The family run company, established in 1972, loaded over 1.1 million tons in 2017 in various seagoing vessels.
With the help of Maja's large fleet of floating cranes and powerful mobile harbour crane, a Lieberrr LHM 550, the company was able to efficiently load all vessels.
Most of the scrap is loaded from the quay of Maja's clients, who collect the material from local sources and transport by trucks to the stockyard. The scrap is then loaded by the LHM 550 in to vessels. As well as the cargo coming from the stockyard Maja also receives cargo from other regions of the Netherlands and Germany, brought in by inland vessels or barges, during the loading of the vessel. Maja handles this cargo with spider or orange peel grabs.
Loading sea-going vessels is no ordinary job and requires great skill from the crane operators. In order to properly load a seagoing vessel, a layer of fine scrap (shredder) will be loaded first in each hold to prevent damage to the floor of the hold. Following this the crane operator will start to create a pile in the middle of the hold with Heavy Metal Scrap (HMS ½).
In order to fill all corners of the hold, a special type of bulldozer will be positioned on the scrap pile. The bulldozer starts pushing the scrap into all unused places inside the hold. This process is essential to the complete loading of the cargo hold; incorrect loading can result in accidents with fines payable by the charterer.
When one ship is loaded Maja's floating crane is on to the next job. Much of the scrap is destined for electric furnaces in Turkey, where it is melted down and departs the blast furnaces as newly manufactured steel.
Latest News
(Posted on 24/03/23)
BHP and global engineering, project management and professional services firm, Hatch, have signed an... Read more
(Posted on 20/03/23)
Rio Tinto increased its spend with Australian suppliers to more than A$15.3 billion in 2022, as part... Read more
(Posted on 20/03/23)
Trafigura Group Pte Ltd., a market leader in the global commodities industry, has announced the closing... Read more
(Posted on 07/03/23)
Nexyst 360, an innovative grain transportation solution provider, has partnered with Nexxiot to digitalize... Read more
(Posted on 28/02/23)
Cargill has announced the appointments of Joanne Knight as Chief Financial Officer (CFO) and Philippa... Read more
(Posted on 24/02/23)
Trafigura, a market leader in the global commodities industry, has entered into a USD 500 million five... Read more
(Posted on 22/02/23)
British Steel has announced proposals to close its coke ovens as part of its drive to overcome global... Read more
(Posted on 20/02/23)
Global miner Rio Tinto and Japanese trader and business conglomerate Marubeni Corporation have agreed... Read more
(Posted on 20/02/23)
Trafigura, a market leader in the global commodities industry, and Ecobat, the global leader in battery... Read more
(Posted on 13/02/23)
Hydrogen is at the core of the green steel transition. Ensuring access to this scarce resource &ndash... Read more