Sailors' Society gives thanks for special relationship with Patron, Queen Elizabeth II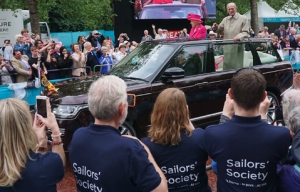 (Posted on 09/09/22)
International maritime charity Sailors' Society has joined the British nation and Commonwealth in sending condolences and grateful thanks for the 70 years of dedicated service Her Majesty Queen Elizabeth II has given as monarch and as the charity's Patron.
Sailor's Society Chairman Peter Swift said: "We have always felt we had a very special relationship with her Majesty Queen Elizabeth II. She was our Patron from her ascension to the throne in 1952 and her first solo royal duty as a Princess was for the Society, opening our Sailors' Home in Aberdeen in 1944.
"She supported our work from then on and we are so thankful for the years of her interest and involvement and her care for seafarers worldwide. We share the deep sadness at her passing with those in the maritime industry across the globe and extend our heartfelt sympathies to the entire Royal Family for the loss of a beloved mother, grandmother and great-grandmother."
Sailors' Society CEO Sara Baade added: "We have been truly blessed and proud to have such a dedicated and loved Sovereign as our Patron for the past 70 years. Our archives contain wonderful messages of support from Her Majesty and photographs of her at key moments in our history.
"Our chaplains across the world will be comforting seafarers over the coming days, who like so many of us are having to come to terms with the loss of someone who has been a constant in our lives."
One of our chaplains in Ukraine, Sergey Bezvershenko, sent the message below after hearing the news yesterday (Thursday September 8).
"It is with deep sadness that we learned of the passing of Her Majesty Queen Elizabeth II, the Patron of Sailors' Society. On behalf of the Ukrainian chaplains, I bring sincere condolences to the Royal Family, the entire United Kingdom, the Commonwealth and Sailors' Society over this irreparable loss. Our prayers are with you."
Sailors' Society archives hold numerous articles and photographs of engagements Her Majesty performed with and for the Society. Editions of the Society's magazine Chart and Compass, which date back through eight generations of the British monarchy, show how Sailors' Society in turn honoured notable dates over the Queen's reign and these are shared on our website.
Latest News
(Posted on 19/09/23)
Seven months after its formal launch, NorthStandard is already realizing tangible benefits from combining... Read more
(Posted on 12/09/23)
Maritime nuclear technology company CORE POWER has boosted its Global Advisory Board with four new high... Read more
(Posted on 12/09/23)
Foreship has relocated its UK subsidiary to larger premises and appointed Tuur Killaars as Senior Sustainability... Read more
(Posted on 08/09/23)
Classification society DNV has signed a Memorandum of Understanding (MoU) with Singapore-based ship... Read more
(Posted on 08/09/23)
Leading blended learning provider Intelligent Seas Group (ISG) is delighted to announce its collaboration... Read more
(Posted on 04/09/23)
Record year-on-year declines in rainfall has been identified as the 'likely culprit' for... Read more
(Posted on 04/09/23)
After years of keeping a vital navigation service operating on the same income, Middle East Navigation... Read more
(Posted on 28/08/23)
Torvald Klaveness and Lauritzen Bulkers, leading global dry bulk shipping companies, have announced... Read more
(Posted on 28/08/23)
Norwegian companies OSM Thome and Pherousa Green Shipping AS (referred to as "PGS") have entered into... Read more
(Posted on 18/08/23)
Tomini Shipping, a world class dry bulk ship owner, has reached yet another milestone in their expansion... Read more