SAFEEN strategic agreement to own and operate five bulkers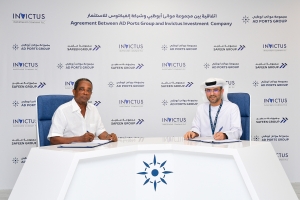 (Posted on 01/10/22)
SAFEEN Feeders has signed a major agreement with Invictus Investment to launch a new international dry bulk shipping service.
Under the terms of the agreement, the two companies will purchase ships through Special Purpose Vehicles, owned 85% by SAFEEN Feeders, part of the AD Ports Group, and 15% by Invictus Investment. In addition, SAFEEN Feeders and Invictus Investment will form a joint venture to operate the service. The joint venture will be owned 51% by SAFEEN Feeders and 49% by Invictus Investment.
The two companies are expected to initially commit approximately AED 463 million (USD 126 million) for the investment in the vessels. Five ships of varying sizes are expected to be deployed within six months, starting in September 2022, with additional vessels envisaged as part of future growth plans.
The joint venture will serve as the carrier for Invictus' dry-bulk trading business, which currently ships more than three million tonnes of commodities annually, principally wheat and complementary grains. The majority of the ships' capacity will be provided to support this business.
In addition, the joint venture will also extend its commercial bulk shipping services to other companies globally, with an initial focus on the Red Sea and Pacific corridors, the Indian sub-continent as well as the Black Sea region, and with the capacity to ship to anywhere in the world within international navigating limits.
Under the joint venture agreement, Invictus Investment will commercially operate the vessels, and with Invictus' large existing trading volumes added to the program, it is expected to generate strong returns on the investment.
Invictus, which was listed on the Abu Dhabi Securities Exchange (ADX) in June 2022 under the ticker INVICTUS, has leveraged its core competency in wheat trading to diversify into complementary grains, as well as cotton, groundnuts, meat, other commodities and finished goods. SAFEEN Feeders, which launched in 2020, has significantly expanded its fleet over the past two years, deploying new vessels of varying sizes and capacities for bulk and container services, boosting overall capacity to 23,400 TEUs.
Capt. Mohamed Juma Al Shamisi, Managing Director and Group CEO, AD Ports Group, said: "Under the guidance of our wise leadership, AD Ports Group continues to invest in new initiatives that stimulate economic diversification and support the recovery of international trade.
This is an important agreement for AD Ports Group as we look to expand the diverse portfolio of international dry bulk services that we provide for customers and strengthen food security in the region and around the world. Aligning SAFEEN Feeders shipping expertise with Invictus' diverse sourcing network will help create a significant new operator, with global reach and a modern fleet.
Latest News
(Posted on 07/12/23)
ClassNK has issued Approvals in Principle (AiPs) for four cutting-edge ship designs developed by Marine... Read more
(Posted on 07/12/23)
A smartship partnership bringing together ship management company Laskaridis Shipping, digital technology... Read more
(Posted on 07/12/23)
ABB has launched a new digital tool allowing shipowners, operators and designers to estimate the emission... Read more
(Posted on 03/12/23)
The Dry Bulk and LNG segments have borne the brunt of restricted transits, particularly due to their... Read more
(Posted on 03/12/23)
Columbia Shipmanagement (CSM) is set to further boost operational efficiency on its vessels, as crew... Read more
(Posted on 26/11/23)
Shi.E.L.D. Services has selected Spinergie as its preferred digitized solution provider to monitor and... Read more
(Posted on 26/11/23)
Thousands of cadets and trainees in India will benefit from in-depth wellness training and support thanks... Read more
(Posted on 17/11/23)
As shipping continues its journey to decarbonisation, INTERCARGO will host a special forum in Athens... Read more
(Posted on 13/11/23)
INTERCARGO was deeply saddened and concerned to hear of the reported appalling missile attack on the... Read more
(Posted on 13/11/23)
A new-look Wellness at Sea Awareness Campaign for seafarers, their families and shore staff that &ldquo... Read more