Safe Bulkers in profit despite trade wars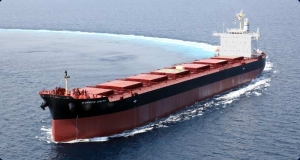 (Posted on 30/05/19)
Safe Bulkers, Inc., an international provider of marine drybulk transportation services, has announced its unaudited financial results for the three months period ended 31 March, 2019.
Dr. Loukas Barmparis, President of the Company, said: ''We started 2019 profitably despite the material weakness of the charter market amid trade-war concerns, disruption of trade patterns due to natural disasters and seasonality inherent in the industry. We are on schedule in implementing our environmental investments installing scrubbers in approximately half of our fleet during 2019 in anticipation of the effectiveness of the IMO sulphur cap regulations in 2020. We also remain committed to installing ballast water treatment systems in each of our vessels. Overall, we remain confident that our Company is well positioned ahead of the uncertainties and opportunities presented by the current operating environment.
Our vessels are used to transport bulk cargoes, particularly coal, grain and iron ore, along worldwide shipping routes. We intend to employ our vessels on both period time charters and spot time charters, according to our assessment of market conditions, with some of the world's largest consumers of marine drybulk transportation services. The vessels we deploy on period time charters provide us with relatively stable cash flow and high utilization rates, while the vessels we deploy in the spot market allow us to maintain our flexibility in low charter market conditions.
As of May 23, 2019, we had liquidity of $95.4 million consisting of $85.0 million in cash and bank time deposits and $10.4 million in restricted cash. Leverage and repayment profile As of March 31, 2019, our consolidated leverage 9 , representing total consolidated liabilities divided by total consolidated assets, was 58%."
Latest News
(Posted on 27/01/23)
ClassNK has issued an Approval in Principle (AiP) for a large ammonia fuelled 210,000 DWT bulk carrier... Read more
(Posted on 27/01/23)
Investors in middle aged dry bulk tonnage may be cheered by the impact of sustained higher recycled... Read more
(Posted on 27/01/23)
As one of the most important strategic maritime passages in the world, linking the Indian and Pacific... Read more
(Posted on 23/01/23)
OSM Maritime Group and Thome Group have agreed to a merger of the two companies. By joining forces,... Read more
(Posted on 23/01/23)
In a pivotal move aimed at further strengthening The Swedish Club's long-term position in the... Read more
(Posted on 16/01/23)
International crewing expert Danica Crewing Specialists now has a presence in Mumbai, boosting its recruitment... Read more
(Posted on 10/01/23)
Bahamas-based ship-management group Campbell Shipping has extended its relationship with Inmarsat, a... Read more
(Posted on 10/01/23)
AAL's scheduled monthly 'Asia to Australia West Coast Liner Service' (AUWC) recently... Read more
(Posted on 10/01/23)
Tindall Riley & Co Ltd./ the Managers of Britannia P&I announce that on 5 January 2023 it acquired... Read more
(Posted on 04/01/23)
The Swedish Club has welcomed in the New Year, when it formally greeted its incoming Managing Director... Read more