Rusal tests new inert anode pot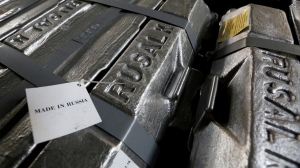 (Posted on 12/06/20)
RUSAL , a leading global aluminium producer, has announced that it has commenced testing operations for a pilot industrial electrolytic cell with inert anodes, which has an improved design and a record low carbon footprint.
The new pilot model will replace the inert anode electrolytic cell already being tested by RUSAL as the next step in the development of innovative carbon-free aluminum cell technology.
The new generation of inert anode electrolytic cell has a number of fundamentally new technical solutions that can improve the purity of aluminum produced, reduce the carbon footprint to a record low level of 2 tons of CO2 per tonne of aluminium produced and reduce operating costs during the production process. The pilot experimental pot cell will have a capacity of approximately 1 tonne of aluminum per day at 140 thousand ampere current rate.
RUSAL is one of the world's leading aluminum producers in developing cell technology using inert anodes. "This technology will increase efficiency and significantly improve the carbon footprint of aluminum production", said Victor Mann, RUSAL's Technical Director.
RUSAL is a leader of the global aluminium industry. In 2019, the Company accounted for about 5.9% of global production of aluminium and 6.3% of alumina production. RUSAL's offices are operating in 20 countries all over the world and across 5 continents. RUSAL common stock is traded at the Hong Kong Stock Exchange. RUSAL's ordinary shares are traded on the Moscow Exchange.
Latest News
(Posted on 08/02/23)
Tata Steel has established a Centre for Innovation in Mining and Mineral Beneficiation at the Indian... Read more
(Posted on 06/02/23)
The National Grain and Feed Association (NGFA) in the USA has outlined recommended actions for Congress... Read more
(Posted on 27/01/23)
Cargill has announced that it has completed the acquisition of Owensboro Grain Company, a fifth-generation... Read more
(Posted on 23/01/23)
BHP Xplor, an accelerator programme introduced by BHP in August 2022, has announced its first cohort... Read more
(Posted on 16/01/23)
Trafigura Group Ptd Ltd., a market leader in the global commodities industry, has made a public carbon... Read more
(Posted on 10/01/23)
Jace Hefner has joined the U.S. Grains Council (USGC) in its Washington, D.C., headquarters as the new... Read more
(Posted on 10/01/23)
Cargill has announced that Jamie Miller will step down as Chief Financial Officer to accept an opportunity... Read more
(Posted on 10/01/23)
Adbri Limited has announced that it has extended its cementitious materials supply arrangement with... Read more
(Posted on 04/01/23)
Khalifa Economic Zones Abu Dhabi – KEZAD Group, the integrated trade, logistics, and industrial... Read more
(Posted on 23/12/22)
Australian agribusiness GrainCorp is co-leading a $12 million investment round into rural connectivity... Read more