Rusal's eco-friendly investment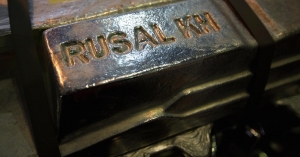 (Posted on 02/02/20)
Rusal, one of the world's largest aluminium producers, has invested approximately 600 million roubles as part of an eco-friendly modernization of its coke-calcining kiln at the Volgograd aluminium smelter (VgAZ).
Following this modernization, the kiln's output capacity has now increased to 12 tonnes per hour as compared to 8-9 tonnes of output at comparable kilns at other plants.
With a capacity of 94,608 tonnes per year, the modernization of the kiln at VgAZ is aimed at enhancing the environmental aspects of production and intensifying the plant's coke calcining process. Thanks to new structural segments where the raw materials go through a preparatory 'drying' process, the coke that enters the heating chamber of the kiln has a lower moisture content compared with earlier generations of kilns. The lower consumption of natural gas also improves the kiln's performance and minimizes the carbon footprint of the entire process. Another design concept that has been implemented involves the mixing of elements to ensure that all layers of raw coke are evenly calcined.
As the result of these improvements, the kiln's fuel consumption has been reduced while the output has been increased. In addition, thanks to the recovery unit that has also been constructed, the steam that is produced during the calcining process can now be converted into heat (used for heating the plant in winter and heating the tap water year-round) and electrical energy. The steam and the carbon-containing dust are captured and returned to the production process.
Rusal's CEO Evgenii Nikitin said: "The modernization projects conducted by RUSAL are not only aimed at achieving specific operational objectives, but also have a key role to play in improving the environmental profile of our plants. Improving and upgrading the calcining kiln at our Volgograd aluminium smelter fully conforms with these two principles, as it is part of a larger project to increase the self-sufficiency of the Company in terms of raw materials and to create a modern, energy-efficient and environmentally clean anode production."
Latest News
(Posted on 20/03/23)
Rio Tinto increased its spend with Australian suppliers to more than A$15.3 billion in 2022, as part... Read more
(Posted on 20/03/23)
Trafigura Group Pte Ltd., a market leader in the global commodities industry, has announced the closing... Read more
(Posted on 07/03/23)
Nexyst 360, an innovative grain transportation solution provider, has partnered with Nexxiot to digitalize... Read more
(Posted on 28/02/23)
Cargill has announced the appointments of Joanne Knight as Chief Financial Officer (CFO) and Philippa... Read more
(Posted on 24/02/23)
Trafigura, a market leader in the global commodities industry, has entered into a USD 500 million five... Read more
(Posted on 22/02/23)
British Steel has announced proposals to close its coke ovens as part of its drive to overcome global... Read more
(Posted on 20/02/23)
Global miner Rio Tinto and Japanese trader and business conglomerate Marubeni Corporation have agreed... Read more
(Posted on 20/02/23)
Trafigura, a market leader in the global commodities industry, and Ecobat, the global leader in battery... Read more
(Posted on 13/02/23)
Hydrogen is at the core of the green steel transition. Ensuring access to this scarce resource &ndash... Read more
(Posted on 08/02/23)
Tata Steel has established a Centre for Innovation in Mining and Mineral Beneficiation at the Indian... Read more