Rusal introduces a new aluminium alloy for anodizing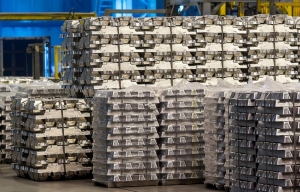 (Posted on 11/02/22)
RUSAL , a leading global aluminium producer, has developed an optimized 5xxx series aluminuim alloy for further anodizing. Production has now started at the Bratsk Aluminium Smelter (BrAZ).
RUSAL's Technical Directorate conducted a general assessment of this alloy and organized its mass production. Furthermore, the production of optimized 5005A alloy slabs will be launched, used by rolling mills to anodize coils and sheets.
Currently, these products are only available through importation. The production of the new alloy in industrial volumes will provide the Russian consumer with the 5xxx series, facilitating the development of high-processed products including facing panels, spotlights, and electrolytic capacitors.
Domestic market demand is estimated to be around 50 thousand tons of 5xxx series alloy.
"The development of value-added products such as 5005A alloy slabs aligns with RUSAL's strategy for developing the domestic market, ensuring a stable competitive position for facade panel manufacturers using domestic products, replacing imported ones. The production of the new alloy will allow RUSAL to reduce delivery times to the consumer, reducing the cost of the final product," said Roman Andryushin, Deputy General Director of RUSAL for sales in Russia, the CIS and China.
Thanks to the anodization of alloys, the final product is covered with a protective oxide film, which is second only to diamond in terms of hardness. Anodizing technology improves the corrosion resistance of products, improving their aesthetic appearance and increasing their service life.
Thanks to the pricing policy of RUSAL and the conclusion of long-term contracts with suppliers within the domestic market, high-tech aluminum products used in the construction industry, facade structures, and products previously only available through importation have now been introduced, including began to be pipes, lighting poles, noise barriers, helipads and cable amongst other products.
Latest News
(Posted on 07/12/23)
Rio Tinto has approved a $77 million (A$110 million) pre-feasibility study (PFS) to progress development... Read more
(Posted on 03/12/23)
Rio Tinto and Giampaolo Group have completed a transaction to form the Matalco joint venture, combining... Read more
(Posted on 03/12/23)
Khalifa Economic Zones Abu Dhabi – KEZAD Group, the largest operator of integrated and purpose... Read more
(Posted on 26/11/23)
ADM, a leader in sustainable agriculture supply chains, has announced an important expansion of its... Read more
(Posted on 17/11/23)
Trafigura, a market leader in the global commodities industry, has agreed to invest in an all-in-one... Read more
(Posted on 17/11/23)
ADM and Marathon Petroleum Corp. have celebrated the opening of their joint venture soybean processing... Read more
(Posted on 13/11/23)
Former U.S. Grains Council (USGC) Director of Global Programmes Alejandra Castillo was named the successor... Read more
(Posted on 13/11/23)
Rio Tinto has completed the acquisition of PanAmerican Silver's stake in Agua de la Falda and... Read more
(Posted on 05/11/23)
Cargill has completed an expansion and modernization project at its integrated soybean crush and refined... Read more
(Posted on 31/10/23)
BHP has approved an investment of US$4.9 billion (C$6.4 billion) for stage two of the Jansen potash... Read more