RIX Shipmanagement selects KVH's CaaS programme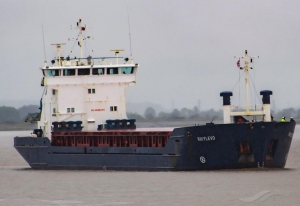 (Posted on 15/07/21)
Global dry-cargo and multipurpose ship operator RIX Shipmanagement Ltd has chosen KVH Industries' AgilePlans subscription-based Connectivity as a Service (CaaS) programme to supply its vessels with VSAT connectivity. Installations for four vessels have been completed, with plans for an additional 25 through the second quarter of 2022.
"Our company currently manages more than 30 vessels and we know the importance of reliable satellite communications to our operations and to our goals of optimizing vessel performance, reducing CO2 emissions, and improving crew welfare," says Aleksandr Lisitskiy, executive director of RIX Shipmanagement Ltd. "The all-inclusive AgilePlans service makes it easy for us to bring leading maritime VSAT connectivity from KVH to our fleet."
RIX plans to use a mix of KVH's TracPhone V7-HTS, TracPhone V3-HTS, and TracPhone V30 systems for its fleet of vessels trading worldwide.
Hansael SIA, in Latvia, provided technical and sales expertise to RIX, advising them of the benefits of KVH's AgilePlans service. "AgilePlans is enabling RIX to quickly bring their growing fleet the reliable satellite communications solution they need to help their business succeed," says Oleg Orlov, director of Hansael SIA.
AgilePlans includes a choice of KVH TracPhone hardware, unlimited email and texting, daily world and national news via NEWSlinkTM TV and NEWSlink Print, installation in as many as 4,000 ports and locations, cybersecurity protection, KVH OneCareTM maintenance, no CAPEX, and no commitment, all for one monthly fee.
Commercial maritime fleets worldwide are migrating from legacy L-band systems, where slower data speeds are measured in kilobits per second (Kbps) to VSAT services, such as KVH AgilePlans, where faster data speeds measured in megabits per second (Mbps) enable vessels to improve operational efficiency through digitalization. Vessel operators also know that seafarers value fast, reliable connectivity and view it as an important part of crew welfare and life at sea.
KVH is a mobile tech innovator that provides connectivity solutions for commercial maritime, leisure marine, and land mobile applications on vessels and vehicles, including the award-winning TracPhone and TracVision product lines, the global mini-VSAT BroadbandSM network, and AgilePlans. The company's KVH Media Group provides news, sports, and entertainment content with such brands as NEWSlink and SPORTSlink.
Latest News
(Posted on 07/12/23)
In an initiative set to be transformational for ship design while protecting the oceans from pollution... Read more
(Posted on 03/12/23)
Ship design, particularly the design of bulk carriers, presents particular challenges when it comes... Read more
(Posted on 26/11/23)
VIKING Life-Saving Equipment, a global leader in maritime safety solutions, is launching an innovative... Read more
(Posted on 26/11/23)
Damen's client Gerdes Green has received a subsidy from the German Government for the investment... Read more
(Posted on 17/11/23)
A first of its kind training course for the Middle East has been held to teach mariners about the basic... Read more
(Posted on 13/11/23)
Wärtsilä ANCS, part of technology group Wärtsilä, has delivered to Seaspan, a marine... Read more
(Posted on 31/10/23)
The flag raising ceremony for three new ASD Tugs has taken place in Gdansk, Poland. In the presence... Read more
(Posted on 26/10/23)
A new immersive crane simulator that can recreate high-risk scenarios without putting drivers or other... Read more
(Posted on 23/10/23)
Vesto Ropes, a global leader in innovative steel wire-rope solutions, has announced a strategic partnership... Read more
(Posted on 23/10/23)
Bedeschi S.p.a. has been awarded a contract for the design and supply of a new longitudinal storage... Read more