Rio Tinto starts Quebec lithium concentration plant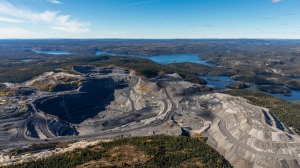 (Posted on 01/10/22)
Rio Tinto has started producing spodumene concentrate, a mineral used in the production of lithium for batteries, at a demonstration plant in its Rio Tinto Iron and Titanium (RTIT) Quebec Operations in its metallurgical complex in Sorel-Tracy, Canada.
The plant will demonstrate at industrial scale a new spodumene concentration process that provides lithium oxide (Li20) grades and recoveries well above the industry average. The process was developed by researchers at Rio Tinto's Critical Minerals and Technology Centre and tested on spodumene ore samples from various countries. It offers the environmental benefit of not using chemical products and generating only dry, inert residues.
RTIT Managing Director Stéphane Leblanc said: "Rio Tinto is exploring new, sustainable ways to extract battery materials for the energy transition. We are seeing strong interest in the market for a North American supply of spodumene concentrate to support production of lithium batteries. Our demonstration plant will allow us to further validate the innovative spodumene concentration process developed at our Critical Minerals and Technology Centre as we consider moving to commercial scale production."
The demonstration plant was commissioned in June after successful laboratory testing of the new process and produced its first ton of spodumene concentrate in July 2022. It will test ore from various local suppliers including Sayona, an emerging lithium producer with projects in Québec and Western Australia.
Latest News
(Posted on 07/12/23)
Rio Tinto has approved a $77 million (A$110 million) pre-feasibility study (PFS) to progress development... Read more
(Posted on 03/12/23)
Rio Tinto and Giampaolo Group have completed a transaction to form the Matalco joint venture, combining... Read more
(Posted on 03/12/23)
Khalifa Economic Zones Abu Dhabi – KEZAD Group, the largest operator of integrated and purpose... Read more
(Posted on 26/11/23)
ADM, a leader in sustainable agriculture supply chains, has announced an important expansion of its... Read more
(Posted on 17/11/23)
Trafigura, a market leader in the global commodities industry, has agreed to invest in an all-in-one... Read more
(Posted on 17/11/23)
ADM and Marathon Petroleum Corp. have celebrated the opening of their joint venture soybean processing... Read more
(Posted on 13/11/23)
Former U.S. Grains Council (USGC) Director of Global Programmes Alejandra Castillo was named the successor... Read more
(Posted on 13/11/23)
Rio Tinto has completed the acquisition of PanAmerican Silver's stake in Agua de la Falda and... Read more
(Posted on 05/11/23)
Cargill has completed an expansion and modernization project at its integrated soybean crush and refined... Read more
(Posted on 31/10/23)
BHP has approved an investment of US$4.9 billion (C$6.4 billion) for stage two of the Jansen potash... Read more