Rio Tinto Q1 production results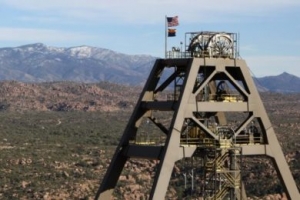 (Posted on 17/04/20)
Rio Tinto Chief Executive J-S Jacques said "In these uncertain and unprecedented times we continue to deliver products to our customers with our first priority to protect the health and safety of all our employees and communities. We are focused on maintaining a business as usual approach and have taken extensive measures to ensure we can do so safely.
"All of our assets continue to operate and we achieved a very robust production performance in the first quarter. Our world-class portfolio and strong balance sheet serve us well in all market conditions and are particularly valuable in the current volatile environment. Our resilience and value over volume strategy mean we can continue to invest in our business, and support our communities and host governments."
Production*

Q1 2020

vs Q1 2019

vs Q4 2019

Pilbara iron ore shipments (100% basis)

Mt

72.9

+5%

-16%

Pilbara iron ore production (100% basis)

Mt

77.8

+2%

-7%

Bauxite

Mt

13.8

+8%

-9%

Aluminium

kt

783

-2%

0%

Mined copper

kt

133.0

-8%

-4%

Titanium dioxide slag

kt

293

-1%

+3%

IOC iron ore pellets and concentrate

Mt

2.6

+3%

0%
*Rio Tinto share unless otherwise stated
Demand in China continues to recover. In the rest of the world, the outlook is more uncertain. Commodity supply is being disrupted as Covid-19 restrictions impact supply chains and people movement globally.
Latest News
(Posted on 19/09/23)
BHP contributed $60 billion (AUD) in economic value to the Australian economy in the 2023 financial... Read more
(Posted on 19/09/23)
BHP contributed $60 billion (AUD) in economic value to the Australian economy in the 2023 financial... Read more
(Posted on 19/09/23)
Trafigura Group Pte Ltd. has announced an evolution of its executive team to further strengthen leadership... Read more
(Posted on 12/09/23)
The Food and Agricultural Organisation of the United Nations (FAO) forecast for global cereal production... Read more
(Posted on 08/09/23)
Rio Tinto has appointed Jérôme Pécresse to lead its Aluminium business, succeeding... Read more
(Posted on 04/09/23)
The Environmental Protection Agency (EPA) and the Army Corps in the USA have announced the final definition... Read more
(Posted on 28/08/23)
Despite the many and varied categories of cargo damage faced by shipowners transporting grain cargoes... Read more
(Posted on 28/08/23)
Rio Tinto and First Quantum Minerals have completed a transaction to form a joint venture that will... Read more
(Posted on 21/08/23)
Aluminum Association president & CEO Charles Johnson released the following statement on the one... Read more
(Posted on 14/08/23)
The Agricultural Industries Confederation (AIC) has chaired a key meeting with the UK Government as... Read more