Rio Tinto maintains momentum at Pilbara iron ore operations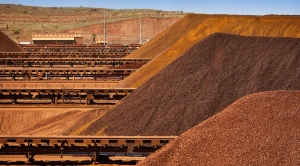 (Posted on 18/10/23)
Rio Tinto has release third quarter production results. Chief Executive Jakob Stausholm said: "We delivered another quarter of progress and maintained momentum at our Pilbara iron ore operations. We continued to make good headway ramping up our Oyu Tolgoi high-grade underground copper mine, our Kitimat aluminium smelter returned to full production, and we safely restarted the smelter and refinery at Kennecott after completing the largest rebuild in its history. We have more to do as we work towards sustainable performance improvements across our business.
"We took real steps to build our portfolio of materials needed for the future, signing agreements that will see us take a leading position in recycled aluminium in North America and agreeing to enter a joint venture with Codelco to explore for copper in Chile. We also completed further infrastructure agreements with our partners for the world class Simandou iron ore project.
"We are making strong progress towards building the Rio Tinto of the future, striking a balance between disciplined performance in evolving market conditions, investing to generate valuable long-term growth and delivering attractive shareholder returns."
Q3 2023 operational highlights and other key announcements include:
All-injury frequency rate of 0.36 improved from the third quarter of 2022 (0.39), and was in line with the prior quarter (0.36). They continue to learn from process safety reviews completed in the third quarter following previously reported incidents at Rio Tinto Iron and Titanium (RTIT) Sorel-Tracy complex and Kennecott, and are planning to further enhance safety at these operations.
Pilbara operations produced 83.5 million tonnes (100% basis) in the third quarter, 1% lower than the corresponding period of 2022. Shipments were 83.9 million tonnes (100% basis), 1% higher than the corresponding period of 2022. We continue to expect full year shipments in the upper half of the original 320 to 335 million tonne range.
In early October, Rio Tinto hosted a site tour of its Pilbara operations for investors and analysts.
Bauxite production of 13.9 million tonnes was 2% higher than the third quarter of 2022 as they achieved the initial benefits of stabilising operations, particularly at Weipa where equipment reliability and performance improved.
Aluminium production of 0.8 million tonnes was 9% higher than the third quarter of 2022 as the returned to full capacity at its Kitimat smelter and completed cell recovery efforts at the Boyne smelter. All other smelters continued to demonstrate stable performance during the quarter.
Latest News
(Posted on 07/12/23)
Rio Tinto has approved a $77 million (A$110 million) pre-feasibility study (PFS) to progress development... Read more
(Posted on 03/12/23)
Rio Tinto and Giampaolo Group have completed a transaction to form the Matalco joint venture, combining... Read more
(Posted on 03/12/23)
Khalifa Economic Zones Abu Dhabi – KEZAD Group, the largest operator of integrated and purpose... Read more
(Posted on 26/11/23)
ADM, a leader in sustainable agriculture supply chains, has announced an important expansion of its... Read more
(Posted on 17/11/23)
Trafigura, a market leader in the global commodities industry, has agreed to invest in an all-in-one... Read more
(Posted on 17/11/23)
ADM and Marathon Petroleum Corp. have celebrated the opening of their joint venture soybean processing... Read more
(Posted on 13/11/23)
Former U.S. Grains Council (USGC) Director of Global Programmes Alejandra Castillo was named the successor... Read more
(Posted on 13/11/23)
Rio Tinto has completed the acquisition of PanAmerican Silver's stake in Agua de la Falda and... Read more
(Posted on 05/11/23)
Cargill has completed an expansion and modernization project at its integrated soybean crush and refined... Read more
(Posted on 31/10/23)
BHP has approved an investment of US$4.9 billion (C$6.4 billion) for stage two of the Jansen potash... Read more