Rio Tinto expands Pilbara presence with new Karratha Hub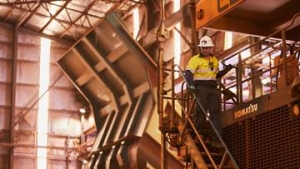 (Posted on 16/10/21)
Rio Tinto Iron Ore Chief Executive, Simon Trott and Rio Tinto Managing Director of Port, Rail and Core Services, Richard Cohen, joined community members, local businesses and representatives from local government to celebrate the official opening of its new community 'Hub' in Karratha.
Located on Ngarluma country in the heart of Karratha's CBD, the new Rio Tinto Karratha Hub will make it easier for local people to connect with the business.
The modern space constructed by lead contractor GBSC Yurra in conjunction with other local businesses, features a meeting room named by Ngarluma elders in recognition of its location on Ngarluma country, work stations, kitchen facilities and local artwork.
Rio Tinto hopes the "Marunharri" room, which means "big mob" in Ngarluma language, will become a place of listening, learning and collarboration between Rio Tinto and the Karratha community.
The Hub will be open to the public on weekdays from 9am to 4pm and visitors are encouraged to get to know their local Rio Tinto team. People can visit the Hub to ask questions about employment and training opportunities, local procurement including the 'Buy Local' initiative, opportunities for Pilbara Aboriginal businesses and community grant funding.
Rio Tinto Iron Ore chief executive, Simon Trott said "Karratha is home to many of our employees, local suppliers, as well as government, community and Traditional Owner partners and is critical to our operations.
"The new hub builds on the work we have been doing with the City of Karratha to enhance community life through new and improved services throughout the region."
Rio Tinto Iron Ore managing director of Port, Rail and Core Services, Richard Cohen said "It is great to see the Rio Tinto sign in the main street of town. Rio Tinto is proud of its long connection to the Karratha community and I expect the new hub will further strengthen our ties with local business, community groups and any locals who want to connect with our team. "The opening of this new hub, a place designed specifically for local people to feel welcome and connected to our company, is part of our commitment to being a good local and to help to build thriving communities."
Latest News
(Posted on 07/12/23)
Rio Tinto has approved a $77 million (A$110 million) pre-feasibility study (PFS) to progress development... Read more
(Posted on 03/12/23)
Rio Tinto and Giampaolo Group have completed a transaction to form the Matalco joint venture, combining... Read more
(Posted on 03/12/23)
Khalifa Economic Zones Abu Dhabi – KEZAD Group, the largest operator of integrated and purpose... Read more
(Posted on 26/11/23)
ADM, a leader in sustainable agriculture supply chains, has announced an important expansion of its... Read more
(Posted on 17/11/23)
Trafigura, a market leader in the global commodities industry, has agreed to invest in an all-in-one... Read more
(Posted on 17/11/23)
ADM and Marathon Petroleum Corp. have celebrated the opening of their joint venture soybean processing... Read more
(Posted on 13/11/23)
Former U.S. Grains Council (USGC) Director of Global Programmes Alejandra Castillo was named the successor... Read more
(Posted on 13/11/23)
Rio Tinto has completed the acquisition of PanAmerican Silver's stake in Agua de la Falda and... Read more
(Posted on 05/11/23)
Cargill has completed an expansion and modernization project at its integrated soybean crush and refined... Read more
(Posted on 31/10/23)
BHP has approved an investment of US$4.9 billion (C$6.4 billion) for stage two of the Jansen potash... Read more