Report outlines U.S. soybean export outlook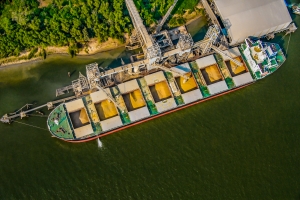 (Posted on 04/07/18)
A report from Rabobank released this month summarises the outlook for U.S. soybean exports, which it believes will continue to decline to China if tariffs take effect and remain in place. But the firm found U.S. soybean exports could increase to the European Union (EU).
President Donald Trump announced in June his intent to impose tariffs on $50 billion worth of goods from China and threatened to impose tariffs on $400 billion more. Meanwhile, China is promising to retaliate with its own tariffs, including an additional 25 percent tax on U.S. soybean imports.
"Given the risk of an additional 25 percent duty on U.S. soybeans into China, Chinese buyers have paid higher prices for non-U.S. origin soybeans," according to a June Rabobank report. "If trade negotiations continue to distort Chinese imports of U.S. soybeans, other countries will benefit from lower U.S. soybean prices, which will be offset by higher South American soybean meal prices. China will also have to pay continued premiums for South American soybeans, pushing other destination markets to an extended U.S. export window, maybe closer to year-round."
Meanwhile, a Bloomberg report cited more information from Rabobank International, which says the United States is likely to overtake Brazil as the biggest soybean seller to the European Union.
"It's already happening," said Pedro Dejneka, partner at Chicago-based MD Commodities, quoted in the article. "While China concentrates its purchases on Brazil, the rest of the world turns to the U.S."
China is the world's largest importer of soybeans, and the prospect of fewer shipments from the United States has boosted premiums for the commodity in the Brazilian market, the report explained. China could replace around 4 million metric tons of U.S. soybeans with Brazilian supplies in the fourth quarter if tariffs are implemented, according to Rabobank.
Latest News
(Posted on 05/06/23)
Rio Tinto has successfully completed the full transition of its heavy machinery from fossil diesel to... Read more
(Posted on 02/06/23)
Rio Tinto plans to invest US$395 million1 in a seawater desalination plant in the Pilbara, Western Australia... Read more
(Posted on 31/05/23)
A new collaboration between BHP and Microsoft has used artificial intelligence and machine learning... Read more
(Posted on 23/05/23)
Bunge and Nutrien Ag Solutions, the retail division of Nutrien Ltd. have announced a strategic alliance... Read more
(Posted on 17/05/23)
Vale has concluded the shipment of its first cargo of iron ore briquettes to be tested in a blast furnace... Read more
(Posted on 12/05/23)
The UK Government's decision to abandon plans to review all EU-derived legislation by the end of 2023... Read more
(Posted on 08/05/23)
The USA's National Grain and Feed Association (NGFA) and 42 other agricultural groups have expressed... Read more
(Posted on 02/05/23)
BHP has announced the completion of the OZ Minerals acquisition and implementation of the scheme of... Read more
(Posted on 02/05/23)
ADM, global leader in nutrition, and one of the leading flour millers in the UK, has for the first time... Read more
(Posted on 28/04/23)
Speaking on behalf of the American Soybean Association and his fellow soy growers, ASA President Daryl... Read more