Reducing seafarer anxiety and sadness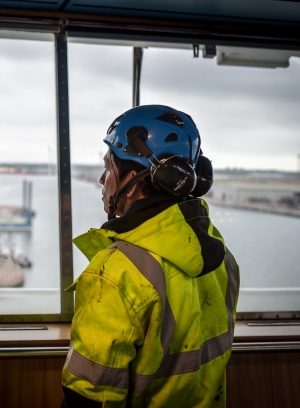 (Posted on 22/03/21)
International maritime charity Sailors' Society's Wellness at Sea training and support reduces anxiety and sadness among seafarers, a research report has shown.
The preliminary findings came from a PHD research project in psychology from Rhodes University in South Africa, investigating the mental health of seafarers. Researcher Lauren Brown conducted the analysis with two groups of crew, from different nationalities. The seafarers had all been at sea for less than two years, serving on a number of vessels.
One of the groups had attended a Wellness at Sea workshop and were part of a Wellness at Sea peer support programme, while the other had not attended any kind of training on wellness or mental health.
Nearly 10 per cent fewer of the seafarers who had taken part in Wellness at Sea reported feeling anxious or worried at work on a regular basis than those who had not attended any wellness training, while 14 per cent fewer of the wellness-trained crew reported regularly feeling sad at work (see notes to editors for details).
The seafarers who had been through Wellness at Sea also showed a better understanding of mental health and were less likely to stigmatise mental illness. For example, nine per cent of that group agreed with the statement "I would be embarrassed if a person in my family became mentally ill", versus 50 per cent of the comparison group, while 26.8 per cent of the trained seafarers were embarrassed by the term "psychological disorder", versus 55.6 per cent of the comparison group.
Johan Smith, Wellness at Sea programme manager, said: "These findings reflect what we have seen across thousands of seafarers who have completed Wellness at Sea training: even a small amount of training and support can make a big difference to a seafarer's mental health.
"By attending just one Wellness at Sea workshop, and talking about mental health with their peers, this crew felt markedly happier at work – which doesn't just have a good impact on their own wellness and safety, but that of the whole crew.
"Evidently, the programme also significantly changes and challenges perceptions seafarers have about mental health.
"The fact that they were less likely to stigmatise mental illness is crucially important. Breaking down mental health stereotypes brings understanding, awareness and empathy to the maritime industry while enabling seafarers to support those around them, whether at home or at sea – and making them more likely to seek help if they need it."
Latest News
(Posted on 24/03/23)
One Sea has welcomeed Finnish start-up Groke Technologies as its new member, bringing additional expertise... Read more
(Posted on 24/03/23)
ClassNK has released "FAQs on the EU-ETS for Shipping", an overview and necessary preparation... Read more
(Posted on 20/03/23)
AXSMarine, a pioneer and market leader in the provision of advanced solutions for shipping professionals... Read more
(Posted on 20/03/23)
Shipzero is enabling transport and logistics companies to create transparency about their emissions... Read more
(Posted on 07/03/23)
The Isle of Man Ship Registry (IOMSR) has become an associate member of The International Association... Read more
(Posted on 07/03/23)
The wellbeing of crew members is becoming more important to shipping companies says leading catering... Read more
(Posted on 28/02/23)
Canada based Algoma Central Corporation has reported its results for the year ended 31 December, 2022... Read more
(Posted on 24/02/23)
Ukrainian seafarers have largely returned to international shipping thereby restoring balance in crew... Read more
(Posted on 24/02/23)
The Chairs of the Round Table of International Shipping Associations met in Athens last week to renew... Read more
(Posted on 21/02/23)
AXSMarine, a leading provider of SaaS shipping software and data for decision making in the chartering... Read more