Quarterly figures confirm rise in Antwerp bulk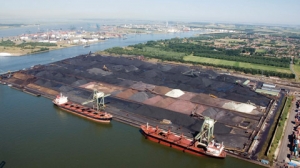 (Posted on 20/04/22)
The total throughput of Port of Antwerp amounted to 58.3 million metric tonnes in the first quarter, a drop of 1.5% compared with the same period last year. On the eve of the merger with Port of Zeebrugge, these quarterly figures confirm the importance of responding to the current challenges collectively and further reinforcing the position in the international logistical chain. Furthermore, the drop in the container segment, which is partly the result of capacity problems, underscores the urgency of extra container capacity.
After a strong 2021 in which Q1 was one of the best quarters ever, the throughput of fertilisers is dropping (-19,6%), which is due in part to the sanctions in respect of Russia as well as the sharp rise in prices. Thanks to the rise in the throughput of ores, coal and particularly grain, the dry bulk segment grew by 11.1% compared to the same period last year. Liquid bulk is also seeing a rise (+15.3%) compared to the first quarter of 2021, with a growth of 16.6% in petroleum derivatives. The throughput of chemicals remains strong, likewise seeing a growth of 16.6%, despite the challenges owing to high feedstock prices. The doubling of biofuels was notable within this segment.
Conventional general cargo grew by 49.1% compared to the weak first quarter of 2021,. Steel, the major category of goods within this segment, is holding firm on the export side. The sanctions prohibiting the import of steel from Russia and Belarus since mid-March are having only a limited effect on throughput. After all, these flows are being replaced by imports from other countries because the EU has redistributed the import quota for steel from Russia and Belarus across other steel-exporting countries.
Despite difficult circumstances, the container segment held firm in 2021. In the first quarter of 2022, however, container traffic saw a fall of 11.6% in TEU compared to the same period last year, the second best quarter ever for containers. The disruption to container liner trade, delays and high import call sizes (number of containers unloaded by ships) are posing protracted operational challenges, which are making the operation of the container terminals more difficult. Moreover, the Russia-Ukraine conflict and the sanctions imposed also put pressure on the number of containers handled.
RoRo saw slight growth (+2.4%), but there has been a significant fall in tonnage since the strong last quarter of 2021. The problems with the production of new vehicles are still affecting the throughput volumes.
The announcement of these quarterly figures comes on the eve of the merger with Port of Zeebrugge. Compared to the first quarter of 2021, all the cargo types are showing growth except for containers.
Jacques Vandermeiren, CEO of Port of Antwerp: "The protracted challenges in the logistics chain are revealed in the figures. These are the latest figures we at Port of Antwerp are announcing. They confirm that through this merger, we will gain a stronger position for the future. Along with Zeebrugge, we have the ability to further reinforce our position in the international logistics chain, in the current complex geopolitical and macro-economic context."
Latest News
(Posted on 26/11/23)
A 194 million euro investment in North Sea Port will secure large-scale CO2 reduction by the largest... Read more
(Posted on 17/11/23)
The Central Association of German Seaport Operators (ZDS) has called for a decisive German port policy... Read more
(Posted on 13/11/23)
A groundbreaking feasibility study has highlighted the potential for using clean ammonia to refuel ships... Read more
(Posted on 05/11/23)
IAPH has announced the ratification by the IAPH Council of the new IAPH Board. The Board is formed by... Read more
(Posted on 05/11/23)
CN has announced that it acquired from Genesee & Wyoming Inc., a stake in the Cape Breton &... Read more
(Posted on 31/10/23)
Due to continued very high inflation, the Hamburg Port Authority (HPA) will raise port fees by an average... Read more
(Posted on 31/10/23)
The UK's leading ports group, Associated British Ports (ABP), has appointed Jeff Gibb as Lead... Read more
(Posted on 26/10/23)
In the first nine months of 2023, there was 6% less throughput in the port of Rotterdam: 329.9 million... Read more
(Posted on 26/10/23)
After nine months, the total throughput of Port of Antwerp-Bruges was 204.4 million tonnes, a drop of... Read more
(Posted on 19/10/23)
LOGISTEC Corporation have announced that it has entered into an arrangement agreement with 1443373... Read more