Québec Government supports Trois-Rivières improvements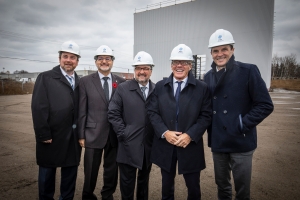 (Posted on 11/11/19)
The Government of Québec confirms that it will provide $2,492,595 in financial assistance to the Trois-Rivières Port Authority for the development of an
outdoor storage space, a multi-purpose shed and an oversized equipment warehouse. The
Minister of Transport and Minister responsible for the Estrie region, François Bonnardel, and the
Minister of Labour, Employment and Social Solidarity and Minister responsible for the Mauricie
region, Jean Boulet, made the announcement.
The Port of Trois-Rivie?res offers a wide range of facilities and services to the maritime industry. The Port is an important player in regional, national and international economic development for major industrial sectors such as the aluminum industry, forestry and agri- food.
The new warehouse will allow Hason to operate a receiving, storage and assembly unit for its
oversized products and export these overseas. The project will create around 40 quality jobs.
"The development of a storage space, a multi-purpose shed and an oversized equipment
warehouse will directly contribute to the development of the industrial-port zone of Trois-Rivières.
Our Government is proud to invest in improving the port's marine transportation services and
support regional economic development," said François Bonnardel, Minister of Transport and Minister responsible for the Estrie region
Jean Boulet, Minister of Labour, Employment and Social Solidarity and Minister responsible for
the Mauricie region said, "Hason's operation of a storage and assembly unit in Trois-Rivières will stimulate the local and
regional economy and create quality jobs in the Mauricie region. I am therefore very proud that our
Government supports such a project and this shows the importance of the Port of Trois-Rivières
as the economic engine of the Mauricie region."
"As a key player in the development of the industrial-port zone of Trois-Rivières, we are proud of
this new partnership with Hason. Thanks to this project, the port and the city of Trois-Rivières will
benefit from an increased international influence, which will bring significant benefits to our
community. The Government of Québec, the City of Trois-Rivières, Innovation and Economic
Development Trois-Rivières and the industrial-port zone's stakeholders have made a vital
contribution to the realization of this major project," said Gaétan Boivin, President and CEO of the Port of Trois-Rivières
"Hason is very proud to continue its growth in Trois-Rivières. The choice of Trois-Rivières was
made possible not only by the Port's proximity and the continued support of its team through our
partnership, but also by the quality of the workforce present in the region and the range of
services available. This new plant will enable Hason to reach new markets through the use of
marine transportation, increase its exports and better serve its existing customer base while
generating significant benefits for the local economy," saidDenis Blain, President and CEO, Hason Steel Products Inc.
Latest News
(Posted on 24/03/23)
LOGISTEC Corporation, a leading marine and environmental services provider, has announced its financial... Read more
(Posted on 24/03/23)
Terence Bowles, President and CEO of the St. Lawrence Seaway Management Corporation (SLSMC), and Adam... Read more
(Posted on 20/03/23)
Abu Dhabi based AD Ports Group, the leading facilitator of global trade, logistics, and industry, has... Read more
(Posted on 20/03/23)
Grain handling at the Port of Immingham is increasing thanks to the new opportunities presented by investment... Read more
(Posted on 07/03/23)
Marcor Stevedoring has signed a contract adding Liebherr's largest and most powerful mobile harbour... Read more
(Posted on 07/03/23)
AD Ports Group, an Abu Dhabi based leading facilitator of global trade, logistics, and industry, and... Read more
(Posted on 02/03/23)
LOGISTEC Stevedoring Inc., a subsidiary of LOGISTEC Corporation, a leading North American marine and... Read more
(Posted on 28/02/23)
End-of-year figures for total traffic in the Spanish Port of Bilbao stand at 32.7 million tonnes, up... Read more
(Posted on 24/02/23)
The Port of Sept-Îles and LOGISTEC Arrimage Inc. have announced that they have reached the impressive... Read more
(Posted on 24/02/23)
The war in Ukraine led to unprecedented changes in goods flows last year. At 467.4 million tonnes, total... Read more