Ports can be renewable energy hubs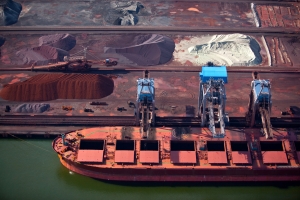 (Posted on 06/07/20)
Ports can play a pivotal role in the world's decarbonization challenge and provide a blueprint for industries and governments to cut pollution and transition to a cleaner energy future. By 2050, the total electricity generating capacity for industrial* ports could increase more than tenfold. Renewable energy could account for at least 70% of the total electricity generation, compared to just 5% today.
This is one of the findings of DNV GL's new study Ports: Green gateways to Europe - 10 Transitions to turn ports into decarbonization hubs. The study reveals that the expected deployment of offshore wind and the required grid enforcements to realize their connection will lead to an advantageous position for large industrial ports as a hub for renewable energy generation.
The report, made with input from Eurelectric, the sector association for the European electricity industry, also reveals that despite industrial production increasing almost 60% and cargo throughput growing 30% by 2050, energy efficiency measures and electrification could more than compensate for the growth in port activities, both in energy use and CO2-emissions. Additionally, the carbon intensity for port side energy use will almost halve.
However, for this to be realised, 10 Green Transitions will need to be made in and around ports. These transitions are:
Electrification of port-related activities
Fuel switch for maritime transport
Electrification of industry
Integration of offshore wind
Energy system integration
Hydrogen as a feedstock and energy vector
Phase-out of fossil-fueled power plants
Carbon capture and storage
New regulations
A circular and bio-based economy
The report also analysed smaller Transport Ports*. The findings show that without the Green Transitions, the ports energy use and CO¬2-emission will increase significantly, but that efficiency measures and electrification could more than half the total energy consumption. Electricity use will increase almost fivefold and in absolute terms, electricity will be almost on par with fuel oil consumption.
Regardless of size or function, the importance of ports in the wider decarbonization agenda cannot be underestimated. Today transport accounts for one-third of the overall EU CO2 emissions, with water transport making up 14%. It is estimated that due to CO2 targets imposed on vehicles, the relative contribution of water transport will increase significantly if emissions from water navigation are not tackled in time.
* Based on DNV GL's model for a large European Industrial Port - this port is based on the average size of the 20 largest ports in Europe. It is mainly focused on bulk goods and containers. It has a large crude-oil and chemical industry cluster, co-location of power plants and a large potential for connecting offshore wind. We also modeled a smaller, mainly transport focussed port. The assessment of this port can be found in the report.
* Based on DNV GL's model for a large European Transport Port- This port is one-tenth of the size of the large or average industrial port and represents the average size of a seaport in Europe. It has a limited industrial cluster, mixed container and passenger transport and no offshore wind connection potential
DNV GL is the independent expert in risk management and quality assurance, operating in more than 100 countries. Through its broad experience and deep expertise DNV GL advances safety and sustainable performance, sets industry benchmarks, and inspires and invents solutions.
Latest News
(Posted on 28/03/23)
Canadian Pacific has said that, on 14 April, 2023, it will exercise the authority granted by the U.S... Read more
(Posted on 24/03/23)
LOGISTEC Corporation, a leading marine and environmental services provider, has announced its financial... Read more
(Posted on 24/03/23)
Terence Bowles, President and CEO of the St. Lawrence Seaway Management Corporation (SLSMC), and Adam... Read more
(Posted on 20/03/23)
Abu Dhabi based AD Ports Group, the leading facilitator of global trade, logistics, and industry, has... Read more
(Posted on 20/03/23)
Grain handling at the Port of Immingham is increasing thanks to the new opportunities presented by investment... Read more
(Posted on 07/03/23)
Marcor Stevedoring has signed a contract adding Liebherr's largest and most powerful mobile harbour... Read more
(Posted on 07/03/23)
AD Ports Group, an Abu Dhabi based leading facilitator of global trade, logistics, and industry, and... Read more
(Posted on 02/03/23)
LOGISTEC Stevedoring Inc., a subsidiary of LOGISTEC Corporation, a leading North American marine and... Read more
(Posted on 28/02/23)
End-of-year figures for total traffic in the Spanish Port of Bilbao stand at 32.7 million tonnes, up... Read more
(Posted on 24/02/23)
The Port of Sept-Îles and LOGISTEC Arrimage Inc. have announced that they have reached the impressive... Read more