Port of Middlesbrough reborn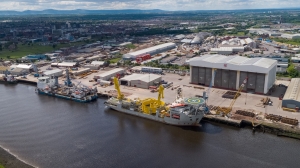 (Posted on 21/09/20)
Teesside logistics business, AV Dawson has named its new port facility Port of Middlesbrough - bringing a name back to the area from over 100 years ago
AV Dawson has amalgamated several parts of its Middlesbrough-based port and logistics opera-tions to form one, integrated port facility as it drives forward with further growth and expansion.
The business has called this new facility Port of Middlesbrough in honour of a port that was on the same stretch of the River Tees back in the 1830s, prior to the construction of Middlesbrough Dock.
Gary Dawson, managing director at AV Dawson said: "Over the years, we've acquired various sites as we've expanded our operations and its become a challenge to describe succinctly what AV Dawson Ltd is.
"We have thought long and hard about what drives the business forward and what defines us - we've concluded that our location and the River Tees are key to this, neither of which feature in the company name. So given the nature of all of the multimodal assets and activities that we own and operate, we are best positioned from a marketing perspective describing ourselves as a port.
"We wanted to consolidate under one new encompassing brand and image, but with a continua-tion of the AV Dawson name and legacy. 'Port of Middlesbrough – an AV Dawson facility' fits with our history and reflects the growth of our business and the town.
"Being a Teesside family business, founded over 80 years ago, the history of the area is really im-portant to us so it seemed logical to reignite the Port of Middlesbrough name.
The new port marks the start of a three-year port masterplan to further develop the site, which will go on to create further jobs and investment in the local area. This plan, an investment of over £10m includes the construction of a plastic waste recycling plant, a new headoffice and the en-hancement of AV Dawson's existing quayside to accommodate larger vessels. It's anticipated that these developments will create over a hundred new jobs on the site.
Andy Preston, Mayor of Middlesbrough said: "This development is a perfect fit for my wider ambi-tions for Middlesbrough, focusing on attracting new investment and jobs to boost the town's economy.
"As an iconic local firm, AV Dawson is a great asset to our town – it is fantastic that it has brought back the Port of Middlesbrough and continues to invest for the future. This is hugely positive news for Middlesbrough".
Mr Dawson concluded: "The launch of Port of Middlesbrough adds further strength to the River Tees and its offer to importing and exporting businesses. We plan to work closely with the statuto-ry harbour authority, PD Ports, to ensure the Tees attracts more ships, as ultimately this will help drive jobs and the local economy."
Latest News
(Posted on 26/11/23)
A 194 million euro investment in North Sea Port will secure large-scale CO2 reduction by the largest... Read more
(Posted on 17/11/23)
The Central Association of German Seaport Operators (ZDS) has called for a decisive German port policy... Read more
(Posted on 13/11/23)
A groundbreaking feasibility study has highlighted the potential for using clean ammonia to refuel ships... Read more
(Posted on 05/11/23)
IAPH has announced the ratification by the IAPH Council of the new IAPH Board. The Board is formed by... Read more
(Posted on 05/11/23)
CN has announced that it acquired from Genesee & Wyoming Inc., a stake in the Cape Breton &... Read more
(Posted on 31/10/23)
Due to continued very high inflation, the Hamburg Port Authority (HPA) will raise port fees by an average... Read more
(Posted on 31/10/23)
The UK's leading ports group, Associated British Ports (ABP), has appointed Jeff Gibb as Lead... Read more
(Posted on 26/10/23)
In the first nine months of 2023, there was 6% less throughput in the port of Rotterdam: 329.9 million... Read more
(Posted on 26/10/23)
After nine months, the total throughput of Port of Antwerp-Bruges was 204.4 million tonnes, a drop of... Read more
(Posted on 19/10/23)
LOGISTEC Corporation have announced that it has entered into an arrangement agreement with 1443373... Read more