Port of Mackay pulls ahead with new tug facility and trade record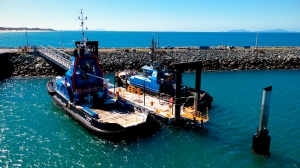 (Posted on 03/09/22)
The Australian Port of Mackay now boasts a new multi-million dollar purpose-built tug berth facility.
Weipa, Abbot Point, Mackay and Hay Point trading ports all come under the care and authority of North Queensland Bulk Ports.
The Port of Mackay recorded 3.6 million throughput tonnes, breaking the 2012-13 record of 3.3 million tonnes and a 12.7 per cent increase on the previous year (2021/22: 3.6 million tonnes; 2020/21: 3.2 million tonnes).
Transport and Main Roads Minister Mark Bailey said the $8.5 million investment had supported 60 good jobs in regional Queensland.
"The Port of Mackay has smashed out a record year of trade, proving just how strong Queensland's export market is," Mr Bailey said.
"Having the new tug berth facilities on site will position the Port to be able to take advantage of the new and diversified trade opportunities in the region, including rail and renewables.
"Construction also utilised local and regional contractors to ensure the economic dividends of this multi-million-dollar project are returned to regional communities.
"Thanks to the Palaszczuk Labor Government keeping Queensland Ports in public hands, it's the people of Queensland who reap the benefits of this investment."
North Queensland Bulk Ports (NQBP) Chief Executive Offficer Nicolas Fertin said North Queensland-based Pacific Marine Group Pty Ltd (PMG) had recently completed the new facility, supporting local jobs along the way.
"The use of regional and local contractors throughout the construction of the new facility was a focus," Mr Fertin said.
"In total, around 60 regional jobs were supported during the project, almost triple the amount originally estimated," he said.
The dedicated tug berth facility is located inside the secure port area and will cater for the existing tug fleet and provides flexibility for future growth.
The facility includes a floating pontoon and gangway which can berth up to two tugs. The berths can also accommodate bigger and more powerful tugs. Two pilot boat berths have also been included.
It is the largest in a series of recent, significant investments totalling $17 million aimed at boosting the port for current and future trade.
PMG Operations Manager Christo Wessels said the team was proud of the successful delivery of the project.
Latest News
(Posted on 03/12/23)
In the presence of Kassym-Jomart Tokayev, President of the Republic of Kazakhstan, AD Ports Group, a... Read more
(Posted on 03/12/23)
Lhyfe, a global pioneer in the production of renewable green hydrogen for transportation and industrial... Read more
(Posted on 26/11/23)
A 194 million euro investment in North Sea Port will secure large-scale CO2 reduction by the largest... Read more
(Posted on 17/11/23)
The Central Association of German Seaport Operators (ZDS) has called for a decisive German port policy... Read more
(Posted on 13/11/23)
A groundbreaking feasibility study has highlighted the potential for using clean ammonia to refuel ships... Read more
(Posted on 05/11/23)
IAPH has announced the ratification by the IAPH Council of the new IAPH Board. The Board is formed by... Read more
(Posted on 05/11/23)
CN has announced that it acquired from Genesee & Wyoming Inc., a stake in the Cape Breton &... Read more
(Posted on 31/10/23)
Due to continued very high inflation, the Hamburg Port Authority (HPA) will raise port fees by an average... Read more
(Posted on 31/10/23)
The UK's leading ports group, Associated British Ports (ABP), has appointed Jeff Gibb as Lead... Read more
(Posted on 26/10/23)
In the first nine months of 2023, there was 6% less throughput in the port of Rotterdam: 329.9 million... Read more