Port of Amsterdam becomes member of responsible soy initiative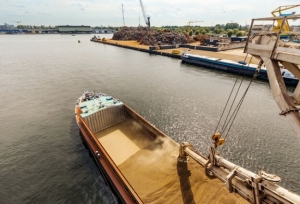 (Posted on 18/08/22)
The Port of Amsterdam recently became a member of the Round Table on Responsible Soy (RTRS), an initiative that aims to make the soy chain more sustainable. This membership fits in with our ambition to stimulate the sustainable development of supply chains.
Soy is an important agricultural cargo flow for the port of Amsterdam, but it has various sustainability challenges. RTRS offers us a platform to learn more about the developments in the soy chain and to actively engage with various parties within that chain. Together we want to work on supply chain sustainability. RTRS also offers certification schemes for sustainably produced soy. This certification ensures that affiliated products meet a certain sustainability standard, including deforestation-free production.
RTRS has more than 180 (international) members, including producers, processors, traders, financial institutions and NGOs. Together, these parties are committed to the overarching mission of RTRS, which is to grow the production, trade and use of sustainable soy. From the Netherlands, Friesland Campina, IDH, Ahold Delhaize, Rabobank and Unilever, among others, are affiliated with this initiative. Port of Amsterdam is the first port in the Netherlands to become a member of RTRS.
The Amsterdam port region is one of the world's largest logistics hubs. Handling 100 million tonnes in cargo traffic annually, Amsterdam is one of Western Europe's Top 5 sea ports. The Port's strategic and central location within Europe makes it easily accessible and ensures excellent connections to all major European markets.
Latest News
(Posted on 31/03/23)
Bunge Limited has announced that Kathleen Hyle, non-executive chairperson of the Board of Directors,... Read more
(Posted on 31/03/23)
Rio Tinto and First Quantum Minerals have entered into an agreement to form a joint venture that will... Read more
(Posted on 28/03/23)
Fertilizers Europe has called on EU co-legislators to ensure that clean fertilizer and ammonia production... Read more
(Posted on 24/03/23)
BHP and global engineering, project management and professional services firm, Hatch, have signed an... Read more
(Posted on 20/03/23)
Rio Tinto increased its spend with Australian suppliers to more than A$15.3 billion in 2022, as part... Read more
(Posted on 20/03/23)
Trafigura Group Pte Ltd., a market leader in the global commodities industry, has announced the closing... Read more
(Posted on 07/03/23)
Nexyst 360, an innovative grain transportation solution provider, has partnered with Nexxiot to digitalize... Read more
(Posted on 28/02/23)
Cargill has announced the appointments of Joanne Knight as Chief Financial Officer (CFO) and Philippa... Read more
(Posted on 24/02/23)
Trafigura, a market leader in the global commodities industry, has entered into a USD 500 million five... Read more
(Posted on 22/02/23)
British Steel has announced proposals to close its coke ovens as part of its drive to overcome global... Read more