Port Kembla, Australia reopens after bulk ship blaze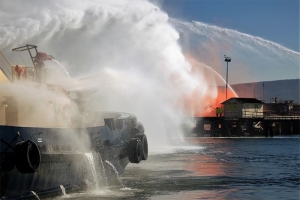 (Posted on 18/06/18)
A fire in the hold of a CSL bulker closed Port Kembla for eight hours on Monday.
Located on the east coast of New South Wales, historically Port Kembla has serviced the needs of regional industries, predominantly coal (export) and steel (import of raw materials and steel products). In more recent years the port has diversified its trade base to include general and break bulk cargoes, containers and motor vehicle imports. It is also the principal grain export port for producers in Southern and South-Western NSW.
The port was shut soon after the fire began before dawn on the MV Iron Chieftain, as self-unloading bulk carrier built in 1993, as it unloaded dolomite, a mineral used in steelmaking which was destined for BlueScope Steel Ltd's nearby blast furnace.
The Sidney Morning Herald has reported that 100 firefighters battled the blaze that broke out in the ship's hold just after 3am. The newspaper reported that Fire and Rescue NSW Superintendent Norm Buckley said it was a challenging job. "We're going to be there for a long time," Inspector Buckley said. No injuries were reported.
"Shipping recommenced and the port reopened at 1130 (0130 GMT) and is expected to be back on schedule by around 1700," Harbour master Kell Dillon said.
A massive emergency drill took place in Port Kembla last month that saw Port Authority of NSW lead a full-scale multi-agency operation to protect the port from a simulated oil spill and fire.
BlueScope Steel beleive that the blaze would have no impact on its steelmaking and none of its port equipment was damaged.
The port, also the state's largest vehicle import gateway, counts among its customers nearby coal mines run by BHP spinoff South32, which said its exports were unaffected.
The ship's owner, CSL Australia, said damage to the vessel was not immediately clear. At the time of the fire, eight vessels at anchor in the port, mostly bulk carriers and roll-on, roll-off vehicle ships.
Latest News
(Posted on 31/03/23)
The Port of Long Beach and the Los Angeles/Orange Counties Building and Construction Trades Council... Read more
(Posted on 28/03/23)
Canadian Pacific has said that, on 14 April, 2023, it will exercise the authority granted by the U.S... Read more
(Posted on 24/03/23)
LOGISTEC Corporation, a leading marine and environmental services provider, has announced its financial... Read more
(Posted on 24/03/23)
Terence Bowles, President and CEO of the St. Lawrence Seaway Management Corporation (SLSMC), and Adam... Read more
(Posted on 20/03/23)
Abu Dhabi based AD Ports Group, the leading facilitator of global trade, logistics, and industry, has... Read more
(Posted on 20/03/23)
Grain handling at the Port of Immingham is increasing thanks to the new opportunities presented by investment... Read more
(Posted on 07/03/23)
Marcor Stevedoring has signed a contract adding Liebherr's largest and most powerful mobile harbour... Read more
(Posted on 07/03/23)
AD Ports Group, an Abu Dhabi based leading facilitator of global trade, logistics, and industry, and... Read more
(Posted on 02/03/23)
LOGISTEC Stevedoring Inc., a subsidiary of LOGISTEC Corporation, a leading North American marine and... Read more
(Posted on 28/02/23)
End-of-year figures for total traffic in the Spanish Port of Bilbao stand at 32.7 million tonnes, up... Read more