Port Hedland old tower felled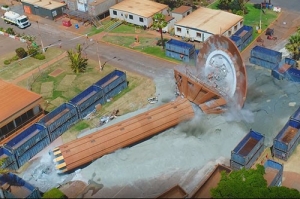 (Posted on 15/10/19)
After almost 50 years of operation, the Port of Port Hedland Shipping Control Tower has taken its final bow. Whilst the Port continues to serve the mining and pastoral industries of the Pilbara today, iron ore continues to be the dominant export product, positioning it as the world's largest iron ore export port.
The old Tower, which could no longer meet the needs of the port's growing operations, was brought down in a controlled environment on Saturday, 28 September 2019.
The Tower, which was built in 1968, was becoming increasingly confined for operational staff and was unable to be upgraded with modern equipment. The building had become maintenance-intensive and in future years, would not be safe to maintain.
Pilbara Ports Authority's Engineering & Infrastructure and Marine Operations teams worked closely with contractors McMahon Services and WGA Engineering to ensure the felling of the Tower occurred smoothly and most importantly, safely.
Pilbara Ports Authority is pleased to report that no harm or injury was sustained by its staff or contractors before, during or after the felling.
Shipping operations are now controlled in the new high-technology Hedland Tower – Integrated Marine Operations Centre, which was officially opened on 30 July 2019.
The Hedland Tower houses state-of-the-art vessel traffic control systems, equipment and emergency response facilities that will steer the safe and efficient movement of vessels through the harbour for the next 50 years.
A commemorative book of the Tower is being produced to capture the Tower's history.
The Tower's lift car and other miscellaneous items have been gifted to the Port Hedland Historical Society, with plaques and the iconic blue doors to be displayed in the Hedland Tower reception area.
Pilbara Ports Authority delivered a total monthly throughput of 56.6 million tonnes (Mt) for the month of September 2019.

The total throughput for the 2019/20 financial year to date is 175.5Mt, an increase of 1% from the same time last year.

The Port of Port Hedland achieved a monthly throughput of 42.3Mt, of which 41.9Mt was iron ore exports. The monthly throughput was a 4% decrease from September 2018.

Imports through the Port of Port Hedland totalled 175,000 tonnes, an increase of 18% from the same month in 2018.



Latest News
(Posted on 27/01/23)
In addition to helping its 12 member ports decarbonize, the World Ports Climate Action Program (WPCAP... Read more
(Posted on 27/01/23)
The first ship of the year, M/V Cape Alexandros, arrived at 11:00 a.m. on January 4, 2023, from Rotterdam... Read more
(Posted on 27/01/23)
AD Ports Group the leading facilitator of global trade, logistics, and industry, has signed a Memorandum... Read more
(Posted on 23/01/23)
In the presence of the UAE President His Highness Sheikh Mohamed bin Zayed Al Nahyan, and the President... Read more
(Posted on 16/01/23)
The Port of South Louisiana (Port SL) CEO Paul Matthews, has announced that it has entered into a Purchase... Read more
(Posted on 16/01/23)
With 73.6 million tons of cargo transhipment from maritime shipping (+7%) and 64.5 million tons from... Read more
(Posted on 12/01/23)
Despite unfavourable economic conditions, traffic in the port of Dunkerque, the third largest port in... Read more
(Posted on 10/01/23)
North Sea Port CEO Daan Schalck has been looking back as well as forward. 2022, was a year in which... Read more
(Posted on 10/01/23)
A multi-million-pound deal has been agreed to build a new road salt storage facility to support Scotland... Read more
(Posted on 10/01/23)
Ports Minister Rita Saffioti has announced Samuel McSkimming as the new CEO of the Pilbara Ports Authority... Read more