Polish Coal imports in 2018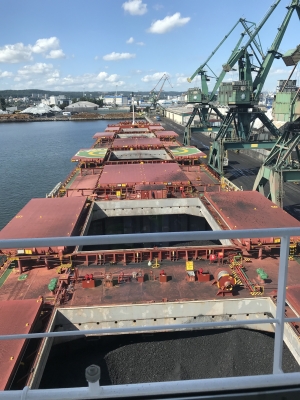 (Posted on 11/03/19)
EUBALTICA, the advisory and consultancy company for Morska Agencja Gdynia (MAG) in Poland has supplied information regarding coal imports to Poland in 2018 and coal production in January, 2019:
Imports of hard coal to Poland amounted to 19.68 million tonnes in 2018, Deputy Minister of Energy Grzegorz Tobiszowski informed. The drop in imports is forecast only from 2019 or 2020.
Coal imports to Poland amounted to 19.68 million tonnes in 2018.
Last year, coal was imported mainly from:
Russia (13.47 million tonnes),
United States (1.53 million tonnes),
Australia (1.47 million tonnes),
Colombia (1.46 million tonnes),
Mozambique (0.55 million tonnes),
Kazakhstan (0.50 million tonnes),
Czech Republic (0.36 million tonnes),
the remaining countries accounted for about 0.3 million tons.
There is no published official amount of coal imported to Poland via Polish ports in 2018.
Below is EUBALTICA's study.
Total amount of imported coal reached almost 20 million tonnes of coal, both coking for metallurgical industry and steam (duff) coal for electric power plants , heating plants and smaller heating facilities (gardeners) and of course size coal for domestic consumption 8-25 mm, 25 -50 mm, 25 -80mm…. .
Over 50 % was delivered/imported by sea via polish ports:
1. Świnoujście Port = ab.2,2 million tons (50% steam coal & 50% coking coal)
2. Szczecin Port = ab.0,5 million tons ( 100% steam coal)
3. Gdynia Port = ab. 1,7 milion tons ( 1,07 million coking coal &0,63 million tons steam coal and sized coal)
4. Leading Port in imports of coal Gdansk North Port -import terminal /Sea-invest = ab. 5,7 million tons (approx. 55% steam coal & approx.. 45% coking coal)
5. Gdansk Old Port (smaller sized vessels) = approx. over 0,5 million ton steam coal and sized coal.
Latest News
(Posted on 24/03/23)
BHP and global engineering, project management and professional services firm, Hatch, have signed an... Read more
(Posted on 20/03/23)
Rio Tinto increased its spend with Australian suppliers to more than A$15.3 billion in 2022, as part... Read more
(Posted on 20/03/23)
Trafigura Group Pte Ltd., a market leader in the global commodities industry, has announced the closing... Read more
(Posted on 07/03/23)
Nexyst 360, an innovative grain transportation solution provider, has partnered with Nexxiot to digitalize... Read more
(Posted on 28/02/23)
Cargill has announced the appointments of Joanne Knight as Chief Financial Officer (CFO) and Philippa... Read more
(Posted on 24/02/23)
Trafigura, a market leader in the global commodities industry, has entered into a USD 500 million five... Read more
(Posted on 22/02/23)
British Steel has announced proposals to close its coke ovens as part of its drive to overcome global... Read more
(Posted on 20/02/23)
Global miner Rio Tinto and Japanese trader and business conglomerate Marubeni Corporation have agreed... Read more
(Posted on 20/02/23)
Trafigura, a market leader in the global commodities industry, and Ecobat, the global leader in battery... Read more
(Posted on 13/02/23)
Hydrogen is at the core of the green steel transition. Ensuring access to this scarce resource &ndash... Read more