Plakiotakis: financing decarbonisation needs creative solutions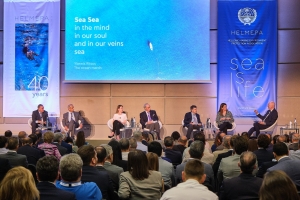 (Posted on 08/06/22)
Shipping is required to face the complex challenges placed by the progressively stricter IMO and EU environmental legislation and the financial issues related thereto, according to Greek Minister of Maritime Affairs and Insular Policy, Mr Ioannis Plakiotakis.
In his keynote address during the opening panel of the HELMEPA Conference on the third day of this year's Posidonia Exhibition, Plakiotakis, referred to decarbonisation as a 'flaming issue' and as 'one of the biggest challenges for shipping'. "Shipping has to secure, in the very near future, worldwide availability of safe alternative low and zero carbon fuels and the related infrastructure. We are, however, still far from there." Posidonia 2022 is organised under the auspices of the Ministry of Maritime Affairs & Insular Policy, the Union of Greek Shipowners and the Hellenic Chamber of Shipping and with the support of the Municipality of Piraeus and the Greek Shipping Co-operation Committee.
The Minister stressed the importance of new financial instruments and resources to fund the journey to decarbonization: "Higher standards of safety and environmental performance often come from different organizations, but always at an important financial cost. Financing of innovative solutions for the reduction of pollution from vessels and enhancement of energy efficiency of ships, including the installation of pioneering technological equipment, or the building of ships of innovative design and systems, presupposes the existence of funding mechanisms beyond the traditional ones."
The Minister added: "The transition to a carbon-free future, requires that we gradually move from the current uncertainty to a safe environment that will be leading future investments and make sure that they result in the expected benefits for the environment, entailing a mix of targeted and flexible, private and public funding."
He finally called on the EU and the International Maritime Research Board and Associated Fund to generously support and contribute to the required funding through sources such as the EU structural budget and other industry-led initiatives.
Addressing the audience via a prerecorded video message, Secretary General of the International Maritime Organisation, Kitack Lim, said: "To decarbonise a truly global industry global solutions are needed. Our goal is to ensure shipping continues to operate safely, securely, and efficiently. Our goal is to ultimately decarbonise shipping and for that, we need to collaborate between all stakeholders to develop sustainable solutions. I very much hope for your support in our endeavours. We must continue our voyage together and leave no one behind."
In her speech, Melina Travlos, President of the Union of Greek Shipowners said: "The Union of Greek Shipowners will continue to work consistently and with dedication, in order to adopt realistic and feasible solutions that will lead our industry in this new era."
A powerful panel of six of Greece's biggest shipping companies, with a combined collective fleet of 354 vessels, or 7% of the total Greek-owned fleet, followed to discuss ESG issues in the shipping sector. They were: Suzanna Laskaridis, Director Laskaridis Shipping, Milena Pappas, Commercial Director, Starbulk Carriers, Athanassios Martinos, Managing Director, Eastern Mediterranean Maritime Limited, Aristidis Pittas, CEO, Euroseas & Eurodry, Simeon Palios, Director and Chairman, Diana Shipping Inc., Nikolas Tsakos, President & CEO, TEN.
Latest News
(Posted on 03/12/23)
The Dry Bulk and LNG segments have borne the brunt of restricted transits, particularly due to their... Read more
(Posted on 03/12/23)
Columbia Shipmanagement (CSM) is set to further boost operational efficiency on its vessels, as crew... Read more
(Posted on 26/11/23)
Shi.E.L.D. Services has selected Spinergie as its preferred digitized solution provider to monitor and... Read more
(Posted on 26/11/23)
Thousands of cadets and trainees in India will benefit from in-depth wellness training and support thanks... Read more
(Posted on 17/11/23)
As shipping continues its journey to decarbonisation, INTERCARGO will host a special forum in Athens... Read more
(Posted on 13/11/23)
INTERCARGO was deeply saddened and concerned to hear of the reported appalling missile attack on the... Read more
(Posted on 13/11/23)
A new-look Wellness at Sea Awareness Campaign for seafarers, their families and shore staff that &ldquo... Read more
(Posted on 05/11/23)
Classification society DNV has entered into a Joint Development Project (JDP) with AL Group and its... Read more
(Posted on 31/10/23)
Samsung Heavy Industries (SHI) and leading classification society DNV have inked a Memorandum of Understanding... Read more
(Posted on 31/10/23)
WISTA International, during its Annual General Meeting (AGM) held in Montevideo, Uruguay, on 25 October... Read more