Piracy at lowest level in decades, but IMB cautions against complacency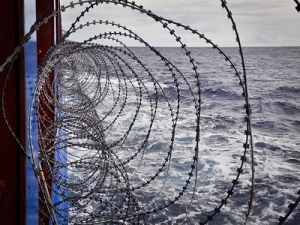 (Posted on 16/10/21)
The ICC International Maritime Bureau (IMB) has reported the lowest number of reported piracy and armed robbery incidents for the first nine months of any year since 1994.
Dedicated to the prevention of trade finance, maritime, transport and trade fraud and malpractice, IMB is a focal point for the international trading and shipping industry and organisations which facilitate the movement of goods. IMB also manages the IMB Piracy Reporting Centre, which acts to suppress piracy and armed robbery against ships.
IMB's latest global piracy report recorded 97 incidents of piracy and armed robbery for the first nine months of 2021 – the lowest level of reported incidents since 1994. In 2021, IMB's Piracy Reporting Centre (PRC) reported 85 vessels boarded, nine attempted attacks, two vessels fired upon and one vessel hijacked.
Reported incidents are down to their lowest level in decades, but violence against seafarers has continued with 51 crew kidnapped, eight taken hostage, five threatened, three injured, two assaulted and one killed, according to the latest IMB statistics.
While the reduction of reported incidents is a welcome, IMB PRC warns that seafarers must remain vigilant as violence against crew remains high in many areas of the world.
The Gulf of Guinea region recorded 28 incidents of piracy and armed robbery in the first nine months of 2021, in comparison to 46 for the same period in 2020. Most notably, Nigeria only reported four incidents in the first nine months of 2021, in comparison to 17 in 2020 and 41 in 2018. Crew kidnappings in the region have dropped with only one crew member kidnapped in Q3 2021, compared to 31 crew members taken in five separate incidents during Q3 2020. All Q3 incidents in 2021 were also against vessels at port anchorages whilst the average successful kidnapping location in Q3 2020 was approximately 100NM from land.
Latest News
(Posted on 26/11/23)
Shi.E.L.D. Services has selected Spinergie as its preferred digitized solution provider to monitor and... Read more
(Posted on 26/11/23)
Thousands of cadets and trainees in India will benefit from in-depth wellness training and support thanks... Read more
(Posted on 17/11/23)
As shipping continues its journey to decarbonisation, INTERCARGO will host a special forum in Athens... Read more
(Posted on 13/11/23)
INTERCARGO was deeply saddened and concerned to hear of the reported appalling missile attack on the... Read more
(Posted on 13/11/23)
A new-look Wellness at Sea Awareness Campaign for seafarers, their families and shore staff that &ldquo... Read more
(Posted on 05/11/23)
Classification society DNV has entered into a Joint Development Project (JDP) with AL Group and its... Read more
(Posted on 31/10/23)
Samsung Heavy Industries (SHI) and leading classification society DNV have inked a Memorandum of Understanding... Read more
(Posted on 31/10/23)
WISTA International, during its Annual General Meeting (AGM) held in Montevideo, Uruguay, on 25 October... Read more
(Posted on 31/10/23)
Members of INTERCARGO met in Athens last week for the Association's Annual General Meeting, Executive... Read more
(Posted on 26/10/23)
The Columbia Group (Columbia) has opened a new manning agency, Columbia Shipmanagement Vietnam (CSM... Read more