Phoenix Lighting acquires Bright Light Systems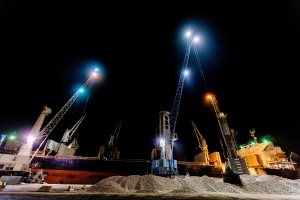 (Posted on 26/02/19)
Phoenix Lighting, a portfolio company of JMC Capital Partners, has announced the acquisition of Bright Light Systems, Inc. - a Georgia-based company with a strong product line, a well-developed lighting controls system and numerous installations worldwide.
Phoenix is the leader in industrial, rugged lighting.
This acquisition strengthens the capabilities of Phoenix to support its port and terminals markets. With expanded in-house expertise, Phoenix can combine its lighting products with a specialized lighting control and monitoring system to bring superior efficiency and performance.
Scott Fredrick, CEO of Phoenix declares, "We are excited about the acquisition and partnership with the Bright Light team. They will be a great addition to our Company and product offering."
Brad Lurie, CEO of Bright Light Systems, who will now manage Phoenix's new Controls Division states, "Our best-in-class controls platform combined with Phoenix's industry knowledge and lighting expertise make this a perfect acquisition."
Ryan Hertel, Managing Director for Ports & Maritime, describes the impact. "Our customers are enthusiastic about this announcement as it follows the industry-wide demands for increased performance data and intelligence on the equipment critical to supporting operations."
Dave Logan, JMC Operating Partner adds, "We are excited about the possibilities that this acquisition brings, leveraging Phoenix's strengths in rugged industrial design with new technology and products."
Originally founded in 1892, Phoenix has evolved alongside the city of Milwaukee and is still proud to call it home. Over 126 years later, Phoenix Lighting continues to be a leading manufacturer of high quality, durable light fixtures built to withstand even the harshest of conditions.
Latest News
(Posted on 27/09/23)
EMS-Tech Inc., a global leader in engineering and innovation within the dry bulk material handling industry... Read more
(Posted on 26/09/23)
MacGregor, part of Cargotec, has received a significant, more than EUR 25 million order for general... Read more
(Posted on 26/09/23)
HEMEXPO, Hellenic Marine Equipment Manufacturers and Exporters, a leading suppliers and exporters association... Read more
(Posted on 19/09/23)
ClassNK has conducted third-party certification for the CO2 emissions reductions of "JGreeX&trade... Read more
(Posted on 12/09/23)
Charterers can save hundreds of thousands of dollars of unnecessary demurrage costs by drilling down... Read more
(Posted on 08/09/23)
Nippon Kaiji Kyokai (ClassNK) has joined the major classification societies to amend its rules relating... Read more
(Posted on 08/09/23)
On behalf of SLPLUS Holding and based on their trust in Feyz Group's operational capabilities,... Read more
(Posted on 08/09/23)
Leading corporate wellbeing provider OneCare Solutions (OCS) has launched the OneCare Solutions Mobile... Read more
(Posted on 04/09/23)
With CCS-Ready scrubbers now being sold at pace, Wärtsilä's studies across a range of... Read more
(Posted on 04/09/23)
German Ship Repair Jamaica Limited (GSRJ), a private joint venture of German, Turkish and Jamaican investors... Read more