Phoenix launches new lighting solutions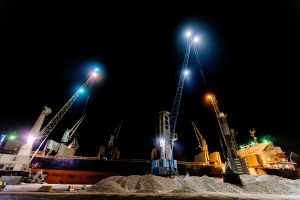 (Posted on 02/04/19)
Phoenix Lighting is proud to announce the launch of its newest port innovation – a fully integrated system for terminal yard lighting. This solution has been expertly designed to give ports and terminals reliable, energy-efficient illumination along with the ability to control and monitor every element of it. LED lighting The new category of high mast fixtures features two product lines. The Highland Series is a fixture designed to meet U.S. and Canadian port requirements and is UL/cUL listed to UL 1598. The Meridian Series has been designed for markets outside of North America and holds CE certification. The Highland and Meridian Series each feature 250W and 500W versions, customized optic options and the durable construction Phoenix EcoMod 2 crane floodlights are known for.
Like the EcoMod 2, these product lines are manufactured in Milwaukee, WI, USA. Lighting controls Phoenix's Lighting Intelligence Technology System combines with high mast fixtures to enable lighting control, zone scheduling, asset management and real-time data collection. The LIT System offers effortless commissioning with no software to install. It is designed to be simple and secure with an intuitive user interface that is remotely accessible. LIT System users benefit from maximized fixture life, increased safety and energy savings of up to 35%. Ryan Hertel, Managing Director for Phoenix's Ports & Maritime Division, is excited to bring this option to the industry that Phoenix Lighting has been dedicated to for over 23 years. "Phoenix continues to deliver additional product categories and innovative lighting technologies to ports and terminals worldwide. This latest combination of products and intelligence provides our customers an opportunity to increase safety and efficiency of operations while effectively managing an asset to maximize its return.
Originally founded in 1892, Phoenix has evolved alongside the city of Milwaukee and is still proud to call it home. Over 126 years later, Phoenix Lighting continues to be a leading manufacturer of high quality, durable lighting solutions built to withstand even the harshest of conditions.
Latest News
(Posted on 27/09/23)
EMS-Tech Inc., a global leader in engineering and innovation within the dry bulk material handling industry... Read more
(Posted on 26/09/23)
MacGregor, part of Cargotec, has received a significant, more than EUR 25 million order for general... Read more
(Posted on 26/09/23)
HEMEXPO, Hellenic Marine Equipment Manufacturers and Exporters, a leading suppliers and exporters association... Read more
(Posted on 19/09/23)
ClassNK has conducted third-party certification for the CO2 emissions reductions of "JGreeX&trade... Read more
(Posted on 12/09/23)
Charterers can save hundreds of thousands of dollars of unnecessary demurrage costs by drilling down... Read more
(Posted on 08/09/23)
Nippon Kaiji Kyokai (ClassNK) has joined the major classification societies to amend its rules relating... Read more
(Posted on 08/09/23)
On behalf of SLPLUS Holding and based on their trust in Feyz Group's operational capabilities,... Read more
(Posted on 08/09/23)
Leading corporate wellbeing provider OneCare Solutions (OCS) has launched the OneCare Solutions Mobile... Read more
(Posted on 04/09/23)
With CCS-Ready scrubbers now being sold at pace, Wärtsilä's studies across a range of... Read more
(Posted on 04/09/23)
German Ship Repair Jamaica Limited (GSRJ), a private joint venture of German, Turkish and Jamaican investors... Read more