Perfect result for Survitec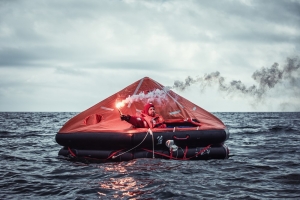 (Posted on 17/12/20)
Survitec has carried out a combination of more than 50,000 liferaft exchanges and inspections since 2012 with technicians recording that the liferafts inspected are in perfect condition even after 30 months of service.
Revised guidelines (MSC.1/Circ.1328) introduced in June 2009 permit extended service schedules of up to 30 months if they incorporate protective arrangements that give the liferaft, its fittings and equipment adequate protection to withstand the environmental influences imposed by the extended interval.
Inspections and service records in Survitec's database show that liferafts were found to be well within the requisite parameters set out in MSC guidelines for extended service liferafts.
Survitec was one of the first maritime safety companies to offer the extended service solution concept.
Malcolm Barratt, Technical Sales Manager – Liferafts, Survitec, said: "That liferafts are in near perfect condition after 30 months is specifically due to the water- and air-tight environment in which the extended service liferaft is contained. The hermetically sealed bag inside the container prevents water ingress and salt erosion."
A large number of Flag Authorities now accept use of extended service liferafts for 'serviceable life,' "When we have presented liferafts after 30 months of service to Flag State inspectors, they have thought we were showing them a newly manufactured liferaft; they're in perfect condition!" said Barratt.
Tommy Scott, Head of Engineering – Survitec Liferafts, added: "State-of-the-art sensors within the liferaft allow operators to take as many readings as they need to with a unique handheld device to ensure the liferaft is in good working order."
The handheld device takes readings from a low powered CO2 sensor - making it suitable for use aboard oil and gas carriers and platforms governed by ATEX (Atmospheres Explosible) requirements.
Once all parameters have been recorded using the ATEX-compliant handheld reader, data is recorded on the provided inspection log form and uploaded to the database.
Unlike alternative solutions, which recommend limiting the number of readings to preserve battery life, Survitec's handheld reader takes a standard 9V alkaline battery that can be easily replaced, allowing crews to take accurate readings more frequently.
"If any readings reveal the liferaft is outside the requisite parameters – by displaying a red light for either incompliant CO2 or humidity levels – remedial action is required. For a CO2 anomaly, this means immediate replacement. For increased humidity, replacement would be required within three months."
Latest News
(Posted on 26/11/23)
VIKING Life-Saving Equipment, a global leader in maritime safety solutions, is launching an innovative... Read more
(Posted on 26/11/23)
Damen's client Gerdes Green has received a subsidy from the German Government for the investment... Read more
(Posted on 17/11/23)
A first of its kind training course for the Middle East has been held to teach mariners about the basic... Read more
(Posted on 13/11/23)
Wärtsilä ANCS, part of technology group Wärtsilä, has delivered to Seaspan, a marine... Read more
(Posted on 31/10/23)
The flag raising ceremony for three new ASD Tugs has taken place in Gdansk, Poland. In the presence... Read more
(Posted on 26/10/23)
A new immersive crane simulator that can recreate high-risk scenarios without putting drivers or other... Read more
(Posted on 23/10/23)
Vesto Ropes, a global leader in innovative steel wire-rope solutions, has announced a strategic partnership... Read more
(Posted on 23/10/23)
Bedeschi S.p.a. has been awarded a contract for the design and supply of a new longitudinal storage... Read more
(Posted on 18/10/23)
Rhenus Maritime Services (RMS) is adding a new coastal vessel to its fleet in the shape of the RMS Ruhrort... Read more
(Posted on 18/10/23)
Dualog, a leading maritime software provider, has introduced a major enhancement to the Dualog Drive... Read more