Partnership to decarbonise RTFT and boost critical minerals processing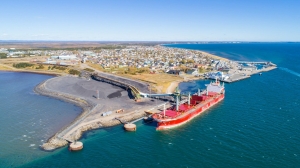 (Posted on 14/10/22)
Rio Tinto is partnering with the Government of Canada to invest up to C$737 million (US$537 million) over the next eight years to decarbonise its Rio Tinto Fer et Titane (RTFT) operations in Sorel-Tracy, Québec, and to position the business as a centre of excellence for critical minerals processing.
The partnership will support technological innovations that represent a first step towards reducing greenhouse gas emissions from RTFT's titanium dioxide, steel and metal powders business by up to 70%It will also progress initiatives to diversify RTFT's product portfolio, reinforcing Rio Tinto's leadership as a North American supplier of critical minerals for key growth sectors such as electric vehicles, 3D printing and aerospace.
The Government of Canada is investing up to C$222 million (US$162 million) over the next eight years to support these initiatives through its Strategic Innovation Fund (SIF), which supports large-scale, transformative, and collaborative projects that will help position Canada to prosper in the global knowledge-based economy.
Rio Tinto Chief Executive Jakob Stausholm said: "Rio Tinto is committed to being part of a net-zero future, from decarbonising our operations to finding new ways to produce the materials needed for the transition. We are excited to collaborate with the Government of Canada to position RTFT for the future and strengthen the critical minerals and metals value chains in Canada and the United States."
The Right Honourable Justin Trudeau, Prime Minister of Canada, said: "Good middle-class jobs, clean air, and made-in-Canada tech: this is our vision for a strong economy and a strong future. Today's announcement is about delivering on that vision and positioning Canada as a leader in critical minerals – a key part of things like electric vehicles. Together, we will continue to innovate, create good jobs, and keep our air clean."
The Honourable François-Philippe Champagne, Canada's Minister of Innovation, Science and Industry, said: "Supporting the growth of Canada's critical minerals supply chain will ensure that our country remains a global leader in this strategic sector. Our government is committed to the sustainable development of critical minerals resources, creating good jobs, and building strong global supply chains while strengthening trade relationships with Canada's closest allies."
Latest News
(Posted on 20/03/23)
Rio Tinto increased its spend with Australian suppliers to more than A$15.3 billion in 2022, as part... Read more
(Posted on 20/03/23)
Trafigura Group Pte Ltd., a market leader in the global commodities industry, has announced the closing... Read more
(Posted on 07/03/23)
Nexyst 360, an innovative grain transportation solution provider, has partnered with Nexxiot to digitalize... Read more
(Posted on 28/02/23)
Cargill has announced the appointments of Joanne Knight as Chief Financial Officer (CFO) and Philippa... Read more
(Posted on 24/02/23)
Trafigura, a market leader in the global commodities industry, has entered into a USD 500 million five... Read more
(Posted on 22/02/23)
British Steel has announced proposals to close its coke ovens as part of its drive to overcome global... Read more
(Posted on 20/02/23)
Global miner Rio Tinto and Japanese trader and business conglomerate Marubeni Corporation have agreed... Read more
(Posted on 20/02/23)
Trafigura, a market leader in the global commodities industry, and Ecobat, the global leader in battery... Read more
(Posted on 13/02/23)
Hydrogen is at the core of the green steel transition. Ensuring access to this scarce resource &ndash... Read more
(Posted on 08/02/23)
Tata Steel has established a Centre for Innovation in Mining and Mineral Beneficiation at the Indian... Read more