Partnership to accelerate green steel transition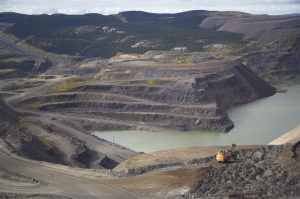 (Posted on 09/08/23)
Rio Tinto and H2 Green Steel, an industrial startup establishing large scale production of green steel, have signed a multi-year supply agreement for high grade direct reduction iron ore pellets from Rio Tinto's Iron Ore Company of Canada (IOC) operations. Rio Tinto will also purchase and on-sell a part of the surplus low carbon hot briquetted iron (HBI) produced by H2 Green Steel during the ramp-up of its steelmaking capacity.
IOC's direct reduction pellets will account for a significant part of the iron ore supply to H2 Green Steel's flagship plant in Boden, Sweden, which will be one of the world's first large-scale producers of low carbon iron and steel.
The fully integrated, digitalised, and circular plant is expected to start operations in 2025, processing direct reduction pellets into HBI and then making steel through electric arc furnaces using green hydrogen. The Boden site will hold one of the world's largest electrolysis plants for green hydrogen production.
The production of steel, a key material for infrastructure and net-zero energy transition, currently contributes around 8% of global carbon emissions. By using green hydrogen in electric arc furnaces instead of coal in traditional steelmaking with a blast furnace, CO2 emissions can be reduced by up to 95 percent.
H2 Green Steel Chief Executive Officer Henrik Henriksson said: "This is a significant milestone for our project in Boden. Not only by securing a supply of the high-quality iron ore needed for our green steel production, but also because we have a buyer for a portion of the HBI we initially expect to produce. Rio Tinto is a global leader in the mining industry and we welcome its concrete actions to accelerate the decarbonisation of the steel industry."
Rio Tinto Head of Steel Decarbonisation Simon Farry said: "We are partnering across the steel ecosystem to find better ways to support the decarbonisation of iron and steel making, and to reduce our scope 3 emissions. Our supply of high-grade iron ore pellets will support the acceleration of H2 Green Steel's project, and on-selling their low-carbon HBI will enable us to gain a deeper understanding of the future needs of our customers and end users in the emerging green iron and steel market."
Latest News
(Posted on 07/12/23)
Rio Tinto has approved a $77 million (A$110 million) pre-feasibility study (PFS) to progress development... Read more
(Posted on 03/12/23)
Rio Tinto and Giampaolo Group have completed a transaction to form the Matalco joint venture, combining... Read more
(Posted on 03/12/23)
Khalifa Economic Zones Abu Dhabi – KEZAD Group, the largest operator of integrated and purpose... Read more
(Posted on 26/11/23)
ADM, a leader in sustainable agriculture supply chains, has announced an important expansion of its... Read more
(Posted on 17/11/23)
Trafigura, a market leader in the global commodities industry, has agreed to invest in an all-in-one... Read more
(Posted on 17/11/23)
ADM and Marathon Petroleum Corp. have celebrated the opening of their joint venture soybean processing... Read more
(Posted on 13/11/23)
Former U.S. Grains Council (USGC) Director of Global Programmes Alejandra Castillo was named the successor... Read more
(Posted on 13/11/23)
Rio Tinto has completed the acquisition of PanAmerican Silver's stake in Agua de la Falda and... Read more
(Posted on 05/11/23)
Cargill has completed an expansion and modernization project at its integrated soybean crush and refined... Read more
(Posted on 31/10/23)
BHP has approved an investment of US$4.9 billion (C$6.4 billion) for stage two of the Jansen potash... Read more