Partnership enables charterers and brokers to fix opportunities faster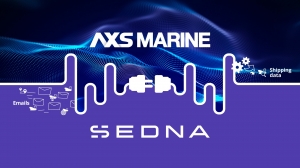 (Posted on 11/02/22)
AXSMarine, a leading provider of SaaS shipping software and data for Drybulk, Tanker, and Containerships, has partnered with SEDNA, an intelligent email solution, to streamline email data flow processing for the shipping industry. The AXSMarine and SEDNA integration will boost workflow efficiency, delivering users seamless use of their preferred tools.
The top pain point for companies using multiple systems is the inefficiency caused by a disconnect between their business goals, software, and data sets. AXSMarine and SEDNA recognize these challenges, and their partnership will create a united environment of online tools and data, providing a competitive edge for their mutual clients.
"By the time one has pulled data from multiple systems and sources, copied it into a spreadsheet or just another third-party product, it may be too late at today's pace of business. Someone else might have won that fixture hidden in the avalanche of emails. Insights from email content is no longer a dream, achieved jointly by this integration: structured data is at the users' fingertips, easily accessible and secure.", said Jacques Goudchaux, AXSMarine CEO. "By offering users a truly integrated alternative to multiple non-integrated solutions, AXSMarine and SEDNA are bringing business capabilities to a level that is second to none" Jacques added. "Our companies share the same vision and are both dedicated to serving the shipping community. This partnership is a logical step in making the client's life much easier."
"The AXSMarine + SEDNA collaboration aggregates decades of knowledge and expertise with proven track records. Our partnership combines speed, reliability, and flexibility to optimize communication and ensure all data is interconnected." shared Bill Dobie, CEO at SEDNA. "We are very excited by this unique package brought to maritime professionals who all aim at improving efficiency and productivity," Bill concluded.
Latest News
(Posted on 07/12/23)
ClassNK has issued Approvals in Principle (AiPs) for four cutting-edge ship designs developed by Marine... Read more
(Posted on 07/12/23)
A smartship partnership bringing together ship management company Laskaridis Shipping, digital technology... Read more
(Posted on 07/12/23)
ABB has launched a new digital tool allowing shipowners, operators and designers to estimate the emission... Read more
(Posted on 03/12/23)
The Dry Bulk and LNG segments have borne the brunt of restricted transits, particularly due to their... Read more
(Posted on 03/12/23)
Columbia Shipmanagement (CSM) is set to further boost operational efficiency on its vessels, as crew... Read more
(Posted on 26/11/23)
Shi.E.L.D. Services has selected Spinergie as its preferred digitized solution provider to monitor and... Read more
(Posted on 26/11/23)
Thousands of cadets and trainees in India will benefit from in-depth wellness training and support thanks... Read more
(Posted on 17/11/23)
As shipping continues its journey to decarbonisation, INTERCARGO will host a special forum in Athens... Read more
(Posted on 13/11/23)
INTERCARGO was deeply saddened and concerned to hear of the reported appalling missile attack on the... Read more
(Posted on 13/11/23)
A new-look Wellness at Sea Awareness Campaign for seafarers, their families and shore staff that &ldquo... Read more