Partnership advances agricultural conservation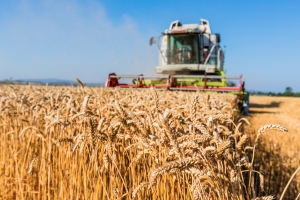 (Posted on 14/04/20)
The Iowa Soybean Association, Quantified Ventures and Cargill are announcing the launch of a collaborative, market-based program to accelerate soil health and water conservation across Iowa farmland and provide a critical new source of financial incentives to Iowa farmers.
The Soil and Water Outcomes Fund compensates farmers for implementing agricultural management best practices on their farms. The resulting environmental improvements, including enhanced water quality and carbon sequestration, are independently monitored, verified and purchased by municipal, corporate, and governmental entities who are seeking innovative ways to reduce their environmental impacts and costs.
"The Fund is a win-win for farmers implementing conservation practices and those benefiting from the outcomes of those practices," says Adam Kiel, Iowa Soybean Association (ISA) Director of Conservation and External Programs. "Farmers are well positioned to play a lead role in improving water quality and sequestering carbon," Kiel says. "It's also an ideal way for farmers to scale beyond the acre and contract limits of traditional government funded cost share programs."
Nearly 10,000 acres in Iowa are already enrolled in the Soil and Water Outcomes Fund. This year, the Fund will achieve an estimated 100,000 pounds of nitrogen reductions and 10,000 pounds of phosphorus reductions in water. Additionally, 7,500 tons of carbon dioxide will be sequestered in soils, an amount equivalent to removing 1,480 cars from the road. The intent is to scale the Fund into additional states and regions to realize even greater positive environmental impacts and farmer benefits.
The outcomes-based funding model aligns with Cargill's strategic focus to develop scalable, public-private partnerships that enable farmers to improve soil health, carbon storage and water quality and access.
"Cargill is excited about the potential of this innovative approach to support and mitigate risk for farmers as they invest in soil health and other conservation best management practices," said Ryan Sirolli, Director of Row Crop Sustainability at Cargill. "We're incentivizing more participants to implement best management practices that provide positive benefits for their business and the environment."
For participating municipalities, benefits include flexibility with permit requirements, source water protection, flood risk reduction and cost savings over grey infrastructure.
Corporations and the industry see value in enhanced soil carbon sequestration to meet supply chain sustainability commitments
Farmers see improved on-farm agronomics and resiliency as they build healthier soils.
Latest News
(Posted on 08/02/23)
Tata Steel has established a Centre for Innovation in Mining and Mineral Beneficiation at the Indian... Read more
(Posted on 06/02/23)
The National Grain and Feed Association (NGFA) in the USA has outlined recommended actions for Congress... Read more
(Posted on 27/01/23)
Cargill has announced that it has completed the acquisition of Owensboro Grain Company, a fifth-generation... Read more
(Posted on 23/01/23)
BHP Xplor, an accelerator programme introduced by BHP in August 2022, has announced its first cohort... Read more
(Posted on 16/01/23)
Trafigura Group Ptd Ltd., a market leader in the global commodities industry, has made a public carbon... Read more
(Posted on 10/01/23)
Jace Hefner has joined the U.S. Grains Council (USGC) in its Washington, D.C., headquarters as the new... Read more
(Posted on 10/01/23)
Cargill has announced that Jamie Miller will step down as Chief Financial Officer to accept an opportunity... Read more
(Posted on 10/01/23)
Adbri Limited has announced that it has extended its cementitious materials supply arrangement with... Read more
(Posted on 04/01/23)
Khalifa Economic Zones Abu Dhabi – KEZAD Group, the integrated trade, logistics, and industrial... Read more
(Posted on 23/12/22)
Australian agribusiness GrainCorp is co-leading a $12 million investment round into rural connectivity... Read more