Panama Canal water levels to remain exceptionally low for months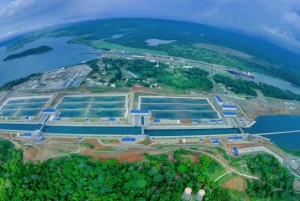 (Posted on 04/09/23)
Record year-on-year declines in rainfall has been identified as the 'likely culprit' for the Panama Canal drought, as water levels are likely to remain exceptionally low for months, despite forecasted short-term improvements.
Isaac Hankes, Senior Weather Analyst at London Stock Exchange Group, comments:
"The Panama Canal is experiencing major, ongoing disruptions in the shipping supply chain due to restrictions on traffic related to very low water levels. This is the result of drought conditions that rapidly developed from the beginning of the year through June and have held steady since that time. In fact, 2023 is off to the driest start during January-July since 2015, which had a similar rainfall rate (see figure below). Furthermore, this represents a departure from a long-term wetter trend as reflected by data from 1981-present.
"While the low rainfall rate itself is not historic in nature over the long-term, 2023 does show the largest decline in rainfall rate year over year on the record. This sudden drying after a wet 2022 is the likely culprit for the rapid drop in canal water levels.
"There has been a slight improvement in rainfall over the past two months, which has resulted in a stabilization of Panama Cana water levels after months of sharp declines. However, rains have not increased enough to raise water levels or to lessen the drought; rather a worsening scenario was simply avoided.
"The forecast through the next two weeks does show a more significant period of high rainfall that could finally start to raise water levels in the canal. Unfortunately, high rainfall is likely to be temporary, as the second half of September is likely to feature widespread dryness once again across Panama. Furthermore, season forecast guidance through the end of the year suggests that dry weather could persist. This means that Panama Canal water levels are likely to remain exceptionally low for months ahead yet despite short-term improvements in the forecast."
Latest News
(Posted on 27/09/23)
As the global shipping industry today celebrates World Maritime Day with its central theme of &ldquo... Read more
(Posted on 26/09/23)
Leading provider of secure maritime data communications software, GTMaritime, has reached 15,000 installations... Read more
(Posted on 26/09/23)
Posidonia Exhibitions, organisers of Posidonia, the International Shipping Exhibition, is launching... Read more
(Posted on 19/09/23)
Seven months after its formal launch, NorthStandard is already realizing tangible benefits from combining... Read more
(Posted on 12/09/23)
Maritime nuclear technology company CORE POWER has boosted its Global Advisory Board with four new high... Read more
(Posted on 12/09/23)
Foreship has relocated its UK subsidiary to larger premises and appointed Tuur Killaars as Senior Sustainability... Read more
(Posted on 08/09/23)
Classification society DNV has signed a Memorandum of Understanding (MoU) with Singapore-based ship... Read more
(Posted on 08/09/23)
Leading blended learning provider Intelligent Seas Group (ISG) is delighted to announce its collaboration... Read more
(Posted on 04/09/23)
After years of keeping a vital navigation service operating on the same income, Middle East Navigation... Read more
(Posted on 28/08/23)
Torvald Klaveness and Lauritzen Bulkers, leading global dry bulk shipping companies, have announced... Read more