Pacific Basin's US$325 million revolving credit facility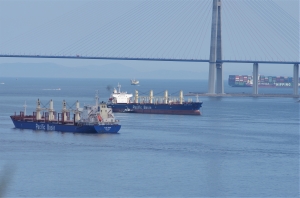 (Posted on 27/06/18)
Hong Kong based Pacific Basin Shipping, one of the world's leading owners and operators of modern Handysize and Supramax dry bulk vessels, has this week closed a US$325 million 7-year reducing revolving credit facility secured over 50 of the Company's owned ships. The move follows improvements in the market for minor bulks such as fertilizer some steel products and, as reported in IBJ, the purchase of four modern ships 50 per cent funded by new share issues to the ships' sellers.
The new credit facility is supported by a syndicate of eight leading international banks, refinances several of Pacific Basin's existing credit facilities and raises fresh capital on previously un-mortgaged vessels.
Borrowings under the facility will carry a very competitive interest cost of Libor plus 1.5%, significantly extend the Company's overall amortisation profile and enhance its financial flexibility. The average age of these 50 ships is 11 years and the facility will effectively extend their repayment profile by an additional 11 years to an average age of 22 years.
Mr. Peter Schulz, CFO of Pacific Basin, said, "We are very pleased with the terms of this important new milestone transaction for Pacific Basin. The facility further increases our funding flexibility with access to long-term committed funding on a revolving basis for the next seven years at an attractive cost which further reduces our already very competitive vessel P&L breakeven levels. We are glad that the facility has been supported by first rate banks that are familiar with the shipping industry, including four banks that represent new banking relationships for Pacific Basin. The facility demonstrates Pacific Basin's strong access to diverse sources of capital. It was 40% oversubscribed reflecting the attraction of our solid balance sheet, corporate profile, business model, track record and reputation which set us apart as a preferred, strong, reliable and safe partner for finance providers, customers and other stakeholders."
Pacific Basin currently operates around 230 dry bulk ships of which 108 are owned (with another 3 recently purchased modern ships still to deliver) and the rest chartered. The company serves over 500 customers, with approximately 3,400 seafarers and 330 shore-based staff in 12 offices in key locations around the world.
Latest News
(Posted on 24/03/23)
One Sea has welcomeed Finnish start-up Groke Technologies as its new member, bringing additional expertise... Read more
(Posted on 24/03/23)
ClassNK has released "FAQs on the EU-ETS for Shipping", an overview and necessary preparation... Read more
(Posted on 20/03/23)
AXSMarine, a pioneer and market leader in the provision of advanced solutions for shipping professionals... Read more
(Posted on 20/03/23)
Shipzero is enabling transport and logistics companies to create transparency about their emissions... Read more
(Posted on 07/03/23)
The Isle of Man Ship Registry (IOMSR) has become an associate member of The International Association... Read more
(Posted on 07/03/23)
The wellbeing of crew members is becoming more important to shipping companies says leading catering... Read more
(Posted on 28/02/23)
Canada based Algoma Central Corporation has reported its results for the year ended 31 December, 2022... Read more
(Posted on 24/02/23)
Ukrainian seafarers have largely returned to international shipping thereby restoring balance in crew... Read more
(Posted on 24/02/23)
The Chairs of the Round Table of International Shipping Associations met in Athens last week to renew... Read more
(Posted on 21/02/23)
AXSMarine, a leading provider of SaaS shipping software and data for decision making in the chartering... Read more