Pacific Basin launches Ocean Technologies learning platform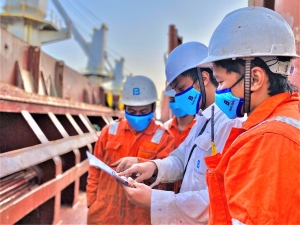 (Posted on 23/03/22)
Pacific Basin Shipping Limited, one of the world's leading dry bulk shipping companies, has signed an agreement with the Ocean Technologies Group to implement its recently launched Ocean Learning Platform.
Pacific Basin continues to implement the latest in learning solutions for our approximately 4,600 seafarers, allowing our crews to access interactive training, while gaining further insight on seafarer development through sophisticated reporting. To support our seafarers' on-going development and the unique training needs of our industry, we continually seek to improve our training programme to ensure our seafarers conduct their work in the safest and most efficient ways possible.
Mr. Martin Fruergaard, CEO of Pacific Basin, said: ''the shipping industry will continue to evolve, as will the demands on our seafarers. For us to continue to deliver to our customers the highest level of service and safety, we want to ensure that our seafarers and shore-based personnel are up-to-date with the latest industry learnings.''
''Pacific Basin will always strive to enhance our safety-first culture, and we hope that this learning system will enrich interaction and engagement and help to deliver the best learning outcomes.''
The learning system will allow crews to conduct training on or offline, reduce onboard administrative workload through an Automatic Data Exchange which automates crew sign-on/off and training record synchronisation, as well as delivering more relevant company communication.
Mr. Rishi Mehra, Marine & Safety Manager at Pacific Basin, commented: "with advances in new training technology, we can continue to increase the effectiveness of our in-house training material, as well as benefit from the 800+ training titles available from the Ocean Learning Library. The health and safety of our seafarers is our main concern, and through this system we can tailor specific training, while monitoring the implementation and effectiveness of the learning platform to each seafarer.''
Manish Singh CEO of Ocean Technologies Group, commented, "We are delighted that Pacific Basin has chosen to implement our award winning learning platform. We are very proud that such a leading owner operator has put their faith in us to help them deliver on their safety and sustainability goals. Crews today need access to more just in time learning than ever before, we believe this will enable their crew and shore-based teams to work and learn more effectively and reach even higher levels of performance."
Latest News
(Posted on 03/12/23)
The Dry Bulk and LNG segments have borne the brunt of restricted transits, particularly due to their... Read more
(Posted on 03/12/23)
Columbia Shipmanagement (CSM) is set to further boost operational efficiency on its vessels, as crew... Read more
(Posted on 26/11/23)
Shi.E.L.D. Services has selected Spinergie as its preferred digitized solution provider to monitor and... Read more
(Posted on 26/11/23)
Thousands of cadets and trainees in India will benefit from in-depth wellness training and support thanks... Read more
(Posted on 17/11/23)
As shipping continues its journey to decarbonisation, INTERCARGO will host a special forum in Athens... Read more
(Posted on 13/11/23)
INTERCARGO was deeply saddened and concerned to hear of the reported appalling missile attack on the... Read more
(Posted on 13/11/23)
A new-look Wellness at Sea Awareness Campaign for seafarers, their families and shore staff that &ldquo... Read more
(Posted on 05/11/23)
Classification society DNV has entered into a Joint Development Project (JDP) with AL Group and its... Read more
(Posted on 31/10/23)
Samsung Heavy Industries (SHI) and leading classification society DNV have inked a Memorandum of Understanding... Read more
(Posted on 31/10/23)
WISTA International, during its Annual General Meeting (AGM) held in Montevideo, Uruguay, on 25 October... Read more