Online seminar for sanctions advice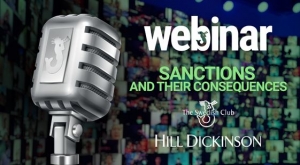 (Posted on 23/11/20)
The impact on a company of breaking sanctions, or even being perceived to have broken sanctions, is often severe and can put the company out of business, effectively shutting it out of the financial markets. The Swedish Club has joined forces with Hill Dickinson to host an online seminar aimed at assisting both Club members and others in the shipping community to safely navigate this complex and often opaque area.
Taking place at 09.30 CET on Tuesday 24 November, Navigating Sanctions Due Diligence, will focus on the importance of due diligence and risk assessment. It will shine a light on the impact of the recent Office of Foreign Asset Control (OFAC) and Office of Financial Sanctions Implementation (OFSI) guidance, including the reach of sanctions, assessing counterparty activity and trade sanctions risks, sanctions compliance programmes and procedures, and contractual precautions.
Expert contributors, Siiri Duddington, Partner at Hill Dickinson, and Trudie Protopapas, Senior Associate at Hill Dickinson will explore the issue, providing an overview of best practice and explaining how to mitigate the risks posed by sanctions breaking. Event participants will then be invited to join a discussion forum.
Malin Högberg, Director, Corporate Legal at The Swedish Club, and event moderator says: "The global sanctions landscape has changed a great deal in 2020. The recent OFAC and OFSI guidance is significant in that it represents an attempt by US and UK governments to set out the standards by which the maritime industry will be judged if they are linked to sanctions breaking.
"These advisories are a good starting point for all organisations developing a sanctions compliance program, and this webinar is aimed at exploring their impact, and identifying the due diligence routines that can be applied to any company likely to be affected by sanctions."
Registration for Navigating Sanctions Due Diligence is free, simply visit The Swedish Club.
Latest News
(Posted on 19/09/23)
Seven months after its formal launch, NorthStandard is already realizing tangible benefits from combining... Read more
(Posted on 12/09/23)
Maritime nuclear technology company CORE POWER has boosted its Global Advisory Board with four new high... Read more
(Posted on 12/09/23)
Foreship has relocated its UK subsidiary to larger premises and appointed Tuur Killaars as Senior Sustainability... Read more
(Posted on 08/09/23)
Classification society DNV has signed a Memorandum of Understanding (MoU) with Singapore-based ship... Read more
(Posted on 08/09/23)
Leading blended learning provider Intelligent Seas Group (ISG) is delighted to announce its collaboration... Read more
(Posted on 04/09/23)
Record year-on-year declines in rainfall has been identified as the 'likely culprit' for... Read more
(Posted on 04/09/23)
After years of keeping a vital navigation service operating on the same income, Middle East Navigation... Read more
(Posted on 28/08/23)
Torvald Klaveness and Lauritzen Bulkers, leading global dry bulk shipping companies, have announced... Read more
(Posted on 28/08/23)
Norwegian companies OSM Thome and Pherousa Green Shipping AS (referred to as "PGS") have entered into... Read more
(Posted on 18/08/23)
Tomini Shipping, a world class dry bulk ship owner, has reached yet another milestone in their expansion... Read more