OneOcean strengthens focus of core business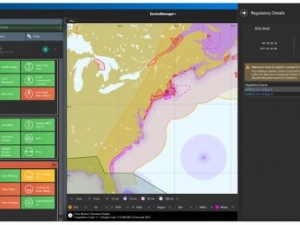 (Posted on 01/02/22)
Maritime digital solutions provider OneOcean Group announces the divestment of the leisure arm of its business, Bookharbour, to the UK's leading specialist retailer of maps, travel books and other travel accessories, Stanfords.
The sale reaffirms OneOcean's commitment to, and focus on, the commercial maritime sector where the company holds a leading position in the delivery of high-quality software solutions.
Over the past few years, the company has transitioned their business through five acquisitions and two divestments. Each transaction has further enhanced the company's portfolio, allowing it to innovate and better meet the evolving needs of customers and stay ahead of industry trends. OneOcean's strategy going forward is centred around the development of a complete and unmatched portfolio of integrated solutions for Regulatory Compliance, Navigation, Environmental Excellence, and Safety.
"We are focused on continuing to build our leading position in the commercial maritime industry as a software solutions provider. The sale of our Leisure business will simplify our operations, allowing us to focus on our core business, which is the fantastic breadth and depth of our commercial offering," commented Martin Taylor, CEO of OneOcean Group.
The company took great care to ensure Bookharbour would become part of a new enterprise with the energy, experience and focus to continue to grow the business. Stanfords and their sister company Bluewater Books and Charts have been a partner to OneOcean for many years and their leadership team have a deservedly strong reputation in maritime and specialist book sales. Established in 1853, Stanfords is renowned as one of the world's leading specialist retailers of maps, travel books and other travel accessories.
Vivien Godfrey, Chairwoman and CEO of Stanfords, responded by saying: "We have been impressed with the quality of the Bookharbour brand and feel that it will be an important addition to our offering. Stanfords has specialised in serving leisure mariners since 1853 and high quality, expertly detailed nautical publications are very much in demand by leisure mariners and hobbyists, so we are excited at the potential that Bookharbour brings to our business."
Bookharbour includes an eCommerce site, which provides high quality goods, including physical and digital publications to the marine leisure sector. Among the brand's publications are charts, atlases, and various instruments. It is a profitable and successful offering that has recently transitioned to online sales.
Latest News
(Posted on 26/11/23)
Shi.E.L.D. Services has selected Spinergie as its preferred digitized solution provider to monitor and... Read more
(Posted on 26/11/23)
Thousands of cadets and trainees in India will benefit from in-depth wellness training and support thanks... Read more
(Posted on 17/11/23)
As shipping continues its journey to decarbonisation, INTERCARGO will host a special forum in Athens... Read more
(Posted on 13/11/23)
INTERCARGO was deeply saddened and concerned to hear of the reported appalling missile attack on the... Read more
(Posted on 13/11/23)
A new-look Wellness at Sea Awareness Campaign for seafarers, their families and shore staff that &ldquo... Read more
(Posted on 05/11/23)
Classification society DNV has entered into a Joint Development Project (JDP) with AL Group and its... Read more
(Posted on 31/10/23)
Samsung Heavy Industries (SHI) and leading classification society DNV have inked a Memorandum of Understanding... Read more
(Posted on 31/10/23)
WISTA International, during its Annual General Meeting (AGM) held in Montevideo, Uruguay, on 25 October... Read more
(Posted on 31/10/23)
Members of INTERCARGO met in Athens last week for the Association's Annual General Meeting, Executive... Read more
(Posted on 26/10/23)
The Columbia Group (Columbia) has opened a new manning agency, Columbia Shipmanagement Vietnam (CSM... Read more