One Sea and ESA MoU to support autonomous shipping uptake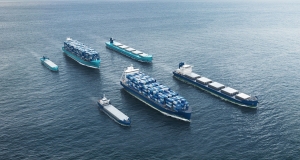 (Posted on 13/04/23)
One Sea and ESA have decided to establish a strategic collaboration to promote the development of new space-enabled services which will support the maritime sector's transition towards autonomous shipping. Autonomous shipping offers new opportunities to deploy safe, commercially viable, and environmentally sustainable maritime operations.
Satellite communications and satellite navigation play a key role in the adoption of autonomous shipping technologies and operations. During offshore passages, ships are often further from land than satellites which can offer invaluable secure and resilient communication channels for monitoring, command, and control of autonomous ships. Furthermore, in ports and congested areas, high precision Position Navigation and Timing (PNT) provided by satellites is also critical for the safe operation of autonomous shipping.
This new partnership will combine One Sea's unique expertise in the maritime sector and in autonomous shipping with ESA's technical competence and mandate through the Business Applications and Space Solutions programme to support the development and demonstration of space solutions in addressing user needs.
Sinikka Hartonen, Secretary General of One Sea Association, said: 'We are thrilled about the possibility to collaborate with ESA. We are looking forward to finding ways to jointly support the development of safe and sustainable maritime transport."
Rita Rinaldo, Head of Business Applications Projects and Studies Implementation Division, said: "ESA is keen to kick-off the work with One Sea Association and its members to strengthen the development and adoption of space solutions as enablers of digital and autonomous shipping, accelerating the sustainable transformation of the maritime sector."
Latest News
(Posted on 07/12/23)
ClassNK has issued Approvals in Principle (AiPs) for four cutting-edge ship designs developed by Marine... Read more
(Posted on 07/12/23)
A smartship partnership bringing together ship management company Laskaridis Shipping, digital technology... Read more
(Posted on 07/12/23)
ABB has launched a new digital tool allowing shipowners, operators and designers to estimate the emission... Read more
(Posted on 03/12/23)
The Dry Bulk and LNG segments have borne the brunt of restricted transits, particularly due to their... Read more
(Posted on 03/12/23)
Columbia Shipmanagement (CSM) is set to further boost operational efficiency on its vessels, as crew... Read more
(Posted on 26/11/23)
Shi.E.L.D. Services has selected Spinergie as its preferred digitized solution provider to monitor and... Read more
(Posted on 26/11/23)
Thousands of cadets and trainees in India will benefit from in-depth wellness training and support thanks... Read more
(Posted on 17/11/23)
As shipping continues its journey to decarbonisation, INTERCARGO will host a special forum in Athens... Read more
(Posted on 13/11/23)
INTERCARGO was deeply saddened and concerned to hear of the reported appalling missile attack on the... Read more
(Posted on 13/11/23)
A new-look Wellness at Sea Awareness Campaign for seafarers, their families and shore staff that &ldquo... Read more