One million automated moorings completed for MoorMaster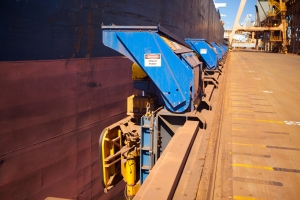 (Posted on 03/09/22)
Cavotec's MoorMaster automated mooring systems have completed more than one million moorings at bulk, ferry, Ro/Ro, container handling and lock applications all over the world, making ports safer, more efficient and more sustainable.
MoorMaster replaces hazardous conventional mooring lines with remotely operated automated vacuum pads that moor and release vessels in seconds at the push of a button.
The technology dramatically improves safety and operational efficiency, optimises the ship-to-shore interface, and in many cases enables ports to make infrastructure savings.
Passing one million moorings is a major milestone that highlights MoorMaster's key role in transforming the maritime industry by improving safety, maximising productivity, and minimising environmental impact. MoorMaster remains the only widely used automated mooring technology on the market today.
To celebrate, Cavotec have put together some fascinating facts and stats about MoorMaster in an infographic. As more and more operators discover the step-change MoorMaster offers, Cavotec expect to reach two million moorings even faster than they reached one million.
Latest News
(Posted on 26/11/23)
VIKING Life-Saving Equipment, a global leader in maritime safety solutions, is launching an innovative... Read more
(Posted on 26/11/23)
Damen's client Gerdes Green has received a subsidy from the German Government for the investment... Read more
(Posted on 17/11/23)
A first of its kind training course for the Middle East has been held to teach mariners about the basic... Read more
(Posted on 13/11/23)
Wärtsilä ANCS, part of technology group Wärtsilä, has delivered to Seaspan, a marine... Read more
(Posted on 31/10/23)
The flag raising ceremony for three new ASD Tugs has taken place in Gdansk, Poland. In the presence... Read more
(Posted on 26/10/23)
A new immersive crane simulator that can recreate high-risk scenarios without putting drivers or other... Read more
(Posted on 23/10/23)
Vesto Ropes, a global leader in innovative steel wire-rope solutions, has announced a strategic partnership... Read more
(Posted on 23/10/23)
Bedeschi S.p.a. has been awarded a contract for the design and supply of a new longitudinal storage... Read more
(Posted on 18/10/23)
Rhenus Maritime Services (RMS) is adding a new coastal vessel to its fleet in the shape of the RMS Ruhrort... Read more
(Posted on 18/10/23)
Dualog, a leading maritime software provider, has introduced a major enhancement to the Dualog Drive... Read more