Oldendorff unveils new series of Kamsaramax orders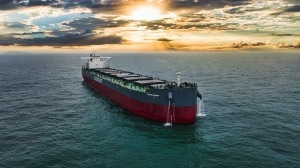 (Posted on 02/11/21)
Oldendorff Carriers have revealed that this summer the company signed another two batches of newbuilding contracts for a series of eco Kamsarmaxes with HANTONG Shipyard. The orders are for five firm vessels and Seven options. The options are likely to be declared during Q1 of 2022, which would mean that Oldendorff will have built a total of 31 vessels at Hantong between 2016 and 2023, comprised of 7 Newcastlemaxes and 24 Kamsarmaxes.
The latest orders are for the new Sdari-82 (2020) design, which features an improved hull form for an even lower consumption and a better light running margin (LRM) for the propeller. At a speed of 14.0 knots, the consumption of the MAN-B&W 6S60ME-C 10.5 engine on design load draft will be 23.18 tons (basis ISO conditions and a LCV of 42,700 kj/kg).
The firm and optional vessels will deliver between July 2022 and September 2023. Some of them have been resold to another owner.
Next month, Hantong will also deliver the last two 209,000 tdw Newcastlemax newbuildings (MV "Heide Oldendorff" and MV "Hauke Oldendorff"), which will service a 10 year Contract of Affreightment from 2023 onwards.
Of the roughly 750 owned and chartered vessels in Oldendorff fleet list, around 200 are on floating index-based period charters and around 80 on fixed rate period charters.
So far this year, Oldendorff Carriers has acquired 16 vessels and holds 7 options:
2 x 182,000 tdw – NBs ex-yard Namura Nov-22 and Feb-23
1 x 119,000 tdw – built 2013 at Sanoyas
1 x 111,000 tdw – built 2012 at Mitsui
1 x 99,000 tdw – built 2013 at Tsuneishi Zhoushan
2 x 96,000 tdw – built 2011 and 2013 at Imabari
2 x 93,000 tdw – built 2012 at Cosco Zhoushan
5 x 82,000 tdw – NBs ex-yard Hantong Jul-22 onwards (+ 7 options)
2 x 61,000 tdw – NBs ex-yard DACKS Jul-22
Latest News
(Posted on 07/12/23)
ClassNK has issued Approvals in Principle (AiPs) for four cutting-edge ship designs developed by Marine... Read more
(Posted on 07/12/23)
A smartship partnership bringing together ship management company Laskaridis Shipping, digital technology... Read more
(Posted on 07/12/23)
ABB has launched a new digital tool allowing shipowners, operators and designers to estimate the emission... Read more
(Posted on 03/12/23)
The Dry Bulk and LNG segments have borne the brunt of restricted transits, particularly due to their... Read more
(Posted on 03/12/23)
Columbia Shipmanagement (CSM) is set to further boost operational efficiency on its vessels, as crew... Read more
(Posted on 26/11/23)
Shi.E.L.D. Services has selected Spinergie as its preferred digitized solution provider to monitor and... Read more
(Posted on 26/11/23)
Thousands of cadets and trainees in India will benefit from in-depth wellness training and support thanks... Read more
(Posted on 17/11/23)
As shipping continues its journey to decarbonisation, INTERCARGO will host a special forum in Athens... Read more
(Posted on 13/11/23)
INTERCARGO was deeply saddened and concerned to hear of the reported appalling missile attack on the... Read more
(Posted on 13/11/23)
A new-look Wellness at Sea Awareness Campaign for seafarers, their families and shore staff that &ldquo... Read more