Oldendorff tops VV list as SMM begins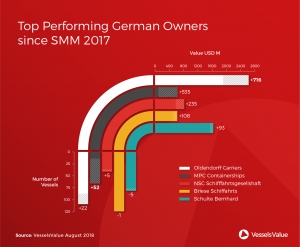 (Posted on 03/09/18)
With one of the world's leading trade fairs for the maritime industry, SMM in Hamburg this week, VesselsValue (VV) has put together an infographic looking at the best performing German owners since 2017 SMM. By comparing the every German owners' fleet value on the first day of SMM 2017 against today's fleet value, we can see the German fleets which have grown the most in value and in total number of owned vessels.
VV, provides instant and unbiased data that can be accessed from anywhere in the world, at any time. VV is used by the world's leading commercial and investment banks, private equity, investment and hedge funds, shipowners and operators, lawyers, accountants, brokers, underwriters and more.
Oldendorff Carriers tops the list by growing their fleet by 22 vessels and increasing their total value by 716 million USD. Today their total fleet comprises 109 vessels worth 2.6 billion USD. Oldendorff have grown into one of the world's leading dry bulk operators, with 4,000 employees from 60 countries, 18 offices and eight transshipment projects. Each year, Oldendorff carry about 320 million tons of bulk and unitised cargo around the world. They perform 14,000 port calls in 125 countries and on average, operate 700 chartered and owned ships at any one time.
In second place is MPC Containships, adding 52 vessels to their owned fleet in 12 months. An impressive addition, considering during SMM 2017 MPC fleet owned 14 vessels worth 95.8 million USD. Today MPC Containerships own 66 vessels worth 631 million USD.
Latest News
(Posted on 24/03/23)
One Sea has welcomeed Finnish start-up Groke Technologies as its new member, bringing additional expertise... Read more
(Posted on 24/03/23)
ClassNK has released "FAQs on the EU-ETS for Shipping", an overview and necessary preparation... Read more
(Posted on 20/03/23)
AXSMarine, a pioneer and market leader in the provision of advanced solutions for shipping professionals... Read more
(Posted on 20/03/23)
Shipzero is enabling transport and logistics companies to create transparency about their emissions... Read more
(Posted on 07/03/23)
The Isle of Man Ship Registry (IOMSR) has become an associate member of The International Association... Read more
(Posted on 07/03/23)
The wellbeing of crew members is becoming more important to shipping companies says leading catering... Read more
(Posted on 28/02/23)
Canada based Algoma Central Corporation has reported its results for the year ended 31 December, 2022... Read more
(Posted on 24/02/23)
Ukrainian seafarers have largely returned to international shipping thereby restoring balance in crew... Read more
(Posted on 24/02/23)
The Chairs of the Round Table of International Shipping Associations met in Athens last week to renew... Read more
(Posted on 21/02/23)
AXSMarine, a leading provider of SaaS shipping software and data for decision making in the chartering... Read more