Oldendorff improves environment with LED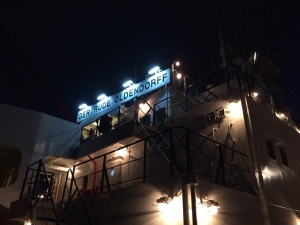 (Posted on 28/05/19)
Oldendorff Carriers has started to equip its entire fleet of bulk carriers with efficient and environmentally friendly LED lights. Over the last year, the company has carried out a series of trials to analyse the performance of different LED manufacturer's lights, including intensities and colours. Some of the environmental advantages of LED lights include:
Up to 80% more efficient than traditional lighting such as fluorescent, halogen, and incandescent lights.
LED lights contain no toxic elements
LEDs emit virtually no IR or UV
LEDs come on at 100-percent brightness almost instantly
LEDs are breakage resistant and largely immune to vibrations and other impacts
Fewer LED lights are needed
Life span is longer
After tests on 4fourships were completed, Oldendorff evaluated the feedback from aboard and determined it was worthwhile to switch to LED. The tests also helped to identify the optimal LED lights for vessels. Oldendorff has now started to supply vessels with the selected lights. The first six ships have now been fitted. The remaining ships will either get equipped in dry-dock or during the upcoming voyages by the crew.
With LED bulbs fitted, the workload for the crew on board will be significantly reduced, as the lifetime of LED bulbs is about five times longer compared with normal fluorescent bulbs.
The use of LED's will also reduce the electrical power requirement and consequently the emissions from each ship. The company will continue to look for ways to reduce its environmental footprint.
Latest News
(Posted on 24/03/23)
One Sea has welcomeed Finnish start-up Groke Technologies as its new member, bringing additional expertise... Read more
(Posted on 24/03/23)
ClassNK has released "FAQs on the EU-ETS for Shipping", an overview and necessary preparation... Read more
(Posted on 20/03/23)
AXSMarine, a pioneer and market leader in the provision of advanced solutions for shipping professionals... Read more
(Posted on 20/03/23)
Shipzero is enabling transport and logistics companies to create transparency about their emissions... Read more
(Posted on 07/03/23)
The Isle of Man Ship Registry (IOMSR) has become an associate member of The International Association... Read more
(Posted on 07/03/23)
The wellbeing of crew members is becoming more important to shipping companies says leading catering... Read more
(Posted on 28/02/23)
Canada based Algoma Central Corporation has reported its results for the year ended 31 December, 2022... Read more
(Posted on 24/02/23)
Ukrainian seafarers have largely returned to international shipping thereby restoring balance in crew... Read more
(Posted on 24/02/23)
The Chairs of the Round Table of International Shipping Associations met in Athens last week to renew... Read more
(Posted on 21/02/23)
AXSMarine, a leading provider of SaaS shipping software and data for decision making in the chartering... Read more