North Queensland Bulk Ports' record year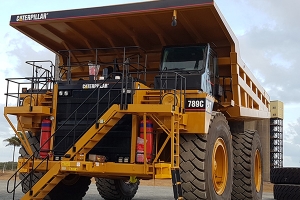 (Posted on 28/08/18)
North Queensland Bulk Ports Corporation (NQBP) has delivered record trade for the 2017-18 financial year with 187.7 million tonnes of throughput passing through its four trading ports.
Deputy Premier and Treasurer Jackie Trad said the figure is a 10% increase on the prior year and represents trade growth at each port. "This is a fantastic result for NQBP, for our port communities and for the Queensland economy,"
Ms Trad said, "Although throughput in the 2016-17 financial year was impacted by Tropical Cyclone Debbie, 2017-18 trade was also higher than previous years' figures. The result demonstrates not only the strength of our post-cyclone recovery, but also the Palaszczuk Government's successful commitment to facilitating trade and developing opportunities. More trade through our ports means more local jobs."
NQBP's previous trade record was 178.5 million tonnes of throughput in 2014-15.
Member for Mackay Julieanne Gilbert said that the Port of Mackay exceeded three million tonnes of throughput (3,007,779 tonnes) for only the third time in its history.
"This news really demonstrates the renewed strength in Mackay's economy with trade not reaching this level since the 2013-14 financial year," Mrs Gilbert said. "More than 100,000 tonnes of break bulk cargo passed through the port, linked to increased industry in the Bowen Basin. NQBP and the Government have focused on growing this trade over the past year, making several infrastructure upgrades and improvements. For example, the installation of new fenders and an upgrade to allow roll-on roll-off (RORO) ships to call at the Port of Mackay for the first time ever was recently completed. This means the port can now be considered by new mining and agricultural original equipment manufacturers (OEMs), who tend to favour the RORO carriers. That means there's more opportunity on the horizon for our local port."
Fuel, which is the port's biggest commodity by volume, also had a record year. 1.6 million tonnes were imported, largely to service a pick-up in mining activity in the region.
Throughput increased at each of NQBP's four trading ports in FY17-18: Port of Hay Point – 120.4 million tonnes, 13% increase on FY16-17; Port of Mackay – 3 million tonnes, 3% increase on FY16-17; Port of Abbot Point – 30 million tonnes, 10% increase on FY16-17; Port of Weipa – 36.2 million tonnes, 2% increase on FY16-17.
Latest News
(Posted on 31/03/23)
The Port of Long Beach and the Los Angeles/Orange Counties Building and Construction Trades Council... Read more
(Posted on 28/03/23)
Canadian Pacific has said that, on 14 April, 2023, it will exercise the authority granted by the U.S... Read more
(Posted on 24/03/23)
LOGISTEC Corporation, a leading marine and environmental services provider, has announced its financial... Read more
(Posted on 24/03/23)
Terence Bowles, President and CEO of the St. Lawrence Seaway Management Corporation (SLSMC), and Adam... Read more
(Posted on 20/03/23)
Abu Dhabi based AD Ports Group, the leading facilitator of global trade, logistics, and industry, has... Read more
(Posted on 20/03/23)
Grain handling at the Port of Immingham is increasing thanks to the new opportunities presented by investment... Read more
(Posted on 07/03/23)
Marcor Stevedoring has signed a contract adding Liebherr's largest and most powerful mobile harbour... Read more
(Posted on 07/03/23)
AD Ports Group, an Abu Dhabi based leading facilitator of global trade, logistics, and industry, and... Read more
(Posted on 02/03/23)
LOGISTEC Stevedoring Inc., a subsidiary of LOGISTEC Corporation, a leading North American marine and... Read more
(Posted on 28/02/23)
End-of-year figures for total traffic in the Spanish Port of Bilbao stand at 32.7 million tonnes, up... Read more