Norden shifts exposure from tankers to dry cargo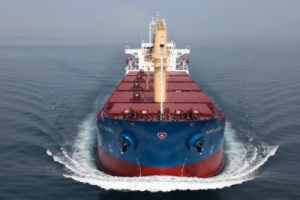 (Posted on 17/12/20)
In response to current market conditions, NORDEN is continuing to shift its exposure from the tanker segment to dry cargo.
Over the past few weeks, NORDEN has sold two tanker vessels – an MR tanker NORD PEARL and a Handysize tanker NORD BUTTERFLY.
Meanwhile, the Company has purchased two second-hand dry bulk carriers – one Supramax vessel to be delivered later this month, and a Kamsarmax to be delivered in April 2021.
The trading activities are in line with NORDEN's asset trading strategy and active management of its market exposure.
"For the next 12 months, we see more favourable market conditions and potential upside in the dry cargo market, as the world economy gradually recovers following Covid-19", said Jan Rindbo, CEO, NORDEN.
"Our asset trading strategy means we continually look for opportunities in the market to optimise our fleet, and it provides us the flexibility to adjust our ongoing exposure towards either dry cargo or tankers, depending on the given market developments."
The new vessels will join the core fleet of NORDEN owned and leased tanker and dry cargo vessels under the Company's Asset Management business unit.
Norden operates in dry cargo and tanker trades. The Dry Operator business unit serves customers with logistical optimisation of vessels and cargoes. 93.95 Million tonnes were transported in the past year with 2,526 voyages on 223 operated vessels.
Latest News
(Posted on 24/03/23)
One Sea has welcomeed Finnish start-up Groke Technologies as its new member, bringing additional expertise... Read more
(Posted on 24/03/23)
ClassNK has released "FAQs on the EU-ETS for Shipping", an overview and necessary preparation... Read more
(Posted on 20/03/23)
AXSMarine, a pioneer and market leader in the provision of advanced solutions for shipping professionals... Read more
(Posted on 20/03/23)
Shipzero is enabling transport and logistics companies to create transparency about their emissions... Read more
(Posted on 07/03/23)
The Isle of Man Ship Registry (IOMSR) has become an associate member of The International Association... Read more
(Posted on 07/03/23)
The wellbeing of crew members is becoming more important to shipping companies says leading catering... Read more
(Posted on 28/02/23)
Canada based Algoma Central Corporation has reported its results for the year ended 31 December, 2022... Read more
(Posted on 24/02/23)
Ukrainian seafarers have largely returned to international shipping thereby restoring balance in crew... Read more
(Posted on 24/02/23)
The Chairs of the Round Table of International Shipping Associations met in Athens last week to renew... Read more
(Posted on 21/02/23)
AXSMarine, a leading provider of SaaS shipping software and data for decision making in the chartering... Read more