Norden enters Capesize segment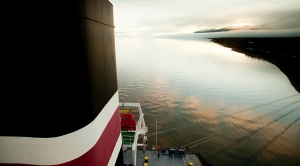 (Posted on 31/03/23)
In line with Norden's 2023-2025 strategy to capitalise on the most attractive opportunities in the market, the company have acquired four Capesize vessels in two separate transactions this month to improve their portfolio of freight service solutions towards dry-segment customers.
With the acquisitions, NORDEN will now offer a full-service approach where they are able to support customers across all dry-segments with cargo loads between 5,000-200,000 tonnes.
"With the move into Capesize, Norden expands its offering to cover all dry cargo sizes, providing added value to our customers and partners globally," says Jan Rindbo, CEO, Norden. "The expansion into Capesize also enables us to capitalise on the most attractive market opportunities in a high exposure segment with relatively few transactions."
To further grow and manage our Capesize business, a dedicated team supported by the global NORDEN organisation will be established to service customers.
In 2022, NORDEN moved into port logistics where they currently operate a transshipment facility for a mining customer in Gabon in Central Africa. By venturing into the Capesize segment, NORDEN will now be able to enhance the scope of current and future logistics projects by providing customers with the optionality to upsize, thereby bringing down operational costs and complexity, while potentially reducing emissions.
The four vessels are expected to be delivered during the coming months.
Capesize bulk carriers are usually between 150,000-210,000 tonnes in deadweight. The majority of this class is also referred to as Dunkirk-max, having a deadweight of around 180,000 tonnes and a length of 289 meters. The vessels are 45 meters wide with a draft of about 18 meters when fully loaded. The name Capesize originates from a time when the vessels were too large to transit the Suez Canal and Panama Canal and instead had to traverse between oceans via either Cape of Good Hope or Cape Horn.
Latest News
(Posted on 26/11/23)
Shi.E.L.D. Services has selected Spinergie as its preferred digitized solution provider to monitor and... Read more
(Posted on 26/11/23)
Thousands of cadets and trainees in India will benefit from in-depth wellness training and support thanks... Read more
(Posted on 17/11/23)
As shipping continues its journey to decarbonisation, INTERCARGO will host a special forum in Athens... Read more
(Posted on 13/11/23)
INTERCARGO was deeply saddened and concerned to hear of the reported appalling missile attack on the... Read more
(Posted on 13/11/23)
A new-look Wellness at Sea Awareness Campaign for seafarers, their families and shore staff that &ldquo... Read more
(Posted on 05/11/23)
Classification society DNV has entered into a Joint Development Project (JDP) with AL Group and its... Read more
(Posted on 31/10/23)
Samsung Heavy Industries (SHI) and leading classification society DNV have inked a Memorandum of Understanding... Read more
(Posted on 31/10/23)
WISTA International, during its Annual General Meeting (AGM) held in Montevideo, Uruguay, on 25 October... Read more
(Posted on 31/10/23)
Members of INTERCARGO met in Athens last week for the Association's Annual General Meeting, Executive... Read more
(Posted on 26/10/23)
The Columbia Group (Columbia) has opened a new manning agency, Columbia Shipmanagement Vietnam (CSM... Read more