NLMK begins hot testing at new furnace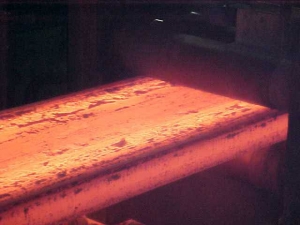 (Posted on 15/10/19)
Russia's largest steelmaker, NLMK Group's flagship site, NLMK Lipetsk, has started hot testing at its new furnace for preheating slabs before rolling at Mill 2000. The new reheating furnace will increase NLMK Lipetsk's hot-rolled steel output by 110,000 tonnes (+2%), reduce energy consumption by 50%, and almost halve air emissions.
The new walking beam reheat furnace has replaced the outdated pusher-type furnace. Walking slabs along through the furnace with moving beams eliminates the possibility of surface defects and improves slab reheating parameters.
The revamp will boost furnace productivity by 23% to 320 tonnes/hour (2.25 million tonnes per year). The furnace's advanced control system based on a learning mathematical algorithm is able to adjust the heating process to steel grades without human intervention.
Total project capex amounted to RUB 4.3 billion. Ramp-up to full capacity is planned before the end of 2019.
Konstantin Lagutin, NLMK Group Vice President for Investment Projects, said:
"The construction of the new furnace is a key Strategy 2022 project. It will debottleneck our hot-strip operations and bolster our output of high quality HRC. With the new unit up and running, all of our steel for hot-rolling will go through processing in new generation high performance resource-saving furnaces."
Three new generation furnaces were installed at NLMK Lipetsk hot-rolling operations in 2004-2011. The new furnace is the fourth to be added. With its launch, the last obsolete pusher-type reheating furnace will be decommissioned.
Reheating Furnace No. 2 was assembled in 10 months, one month ahead of schedule, with no hot-rolling process interruptions. A full BIM (Building Information Modelling) cycle was used for furnace design, construction and assembly. This technology enabled the company to create a digital twin of the future unit and the construction process, to pre-emptively eliminate potential errors, and to optimize the scope and schedule of construction works at an early design stage.
Latest News
(Posted on 20/03/23)
Rio Tinto increased its spend with Australian suppliers to more than A$15.3 billion in 2022, as part... Read more
(Posted on 20/03/23)
Trafigura Group Pte Ltd., a market leader in the global commodities industry, has announced the closing... Read more
(Posted on 07/03/23)
Nexyst 360, an innovative grain transportation solution provider, has partnered with Nexxiot to digitalize... Read more
(Posted on 28/02/23)
Cargill has announced the appointments of Joanne Knight as Chief Financial Officer (CFO) and Philippa... Read more
(Posted on 24/02/23)
Trafigura, a market leader in the global commodities industry, has entered into a USD 500 million five... Read more
(Posted on 22/02/23)
British Steel has announced proposals to close its coke ovens as part of its drive to overcome global... Read more
(Posted on 20/02/23)
Global miner Rio Tinto and Japanese trader and business conglomerate Marubeni Corporation have agreed... Read more
(Posted on 20/02/23)
Trafigura, a market leader in the global commodities industry, and Ecobat, the global leader in battery... Read more
(Posted on 13/02/23)
Hydrogen is at the core of the green steel transition. Ensuring access to this scarce resource &ndash... Read more
(Posted on 08/02/23)
Tata Steel has established a Centre for Innovation in Mining and Mineral Beneficiation at the Indian... Read more