NGFA commends US Senate for infrastructure deal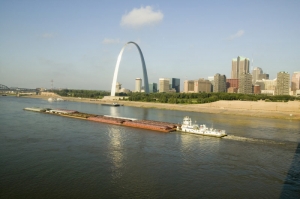 (Posted on 12/08/21)
The USA'a National Grain and Feed Association (NGFA) has commended Senate lawmakers for passing with a 69-30 vote, the Infrastructure Investment and Jobs Act (H.R. 3684), which provides much-needed investments to modernise the U.S. transportation system.
The NGFA, established in 1896, consists of grain, feed, processing, exporting and other grain-related companies that operate more than 8,000 facilities handling U.S. grains and oilseeds.
"NGFA members rely on a robust and competitive transportation system, including U.S. highways, bridges, inland waterways, ports and railways, to efficiently and competitively serve domestic and global markets," said NGFA President and CEO Mike Seyfert. "The Infrastructure Investment and Jobs Act will enhance the efficient and cost-effective transport of agricultural and food products resulting in substantial contributions and opportunities for U.S. economic growth and trade."
The bipartisan legislation would increase infrastructure spending by $550 billion over five years, including an additional $110 billion in U.S. roads and bridges, $65 billion for broadband, and $17.3 billion for ports and waterways. The latter includes $2.5 billion specifically for inland waterways construction projects.
"This bipartisan agreement also includes a number of necessary and overdue provisions designed to boost the resiliency of the agricultural supply chain, including investments in cybersecurity and an apprenticeship pilot program to address the nationwide truck driver shortage," Seyfert said.
NGFA sent an Aug. 9 letter in support of the infrastructure deal to Senate leaders. The Association urges swift enactment of the comprehensive infrastructure bill in the House.
NAGFA's membership includes grain elevators; feed and feed ingredient manufacturers; biofuels companies; grain and oilseed processors and millers; exporters; livestock and poultry integrators; and associated firms that provide goods and services to the nation's grain, feed and processing industry. The NGFA also consists of 34 affiliated State and Regional Grain and Feed Associations, and is co-located and has a strategic alliance with North American Export Grain Association, and a strategic alliance with Pet Food Institute.
Latest News
(Posted on 07/12/23)
Rio Tinto has approved a $77 million (A$110 million) pre-feasibility study (PFS) to progress development... Read more
(Posted on 03/12/23)
Rio Tinto and Giampaolo Group have completed a transaction to form the Matalco joint venture, combining... Read more
(Posted on 03/12/23)
Khalifa Economic Zones Abu Dhabi – KEZAD Group, the largest operator of integrated and purpose... Read more
(Posted on 26/11/23)
ADM, a leader in sustainable agriculture supply chains, has announced an important expansion of its... Read more
(Posted on 17/11/23)
Trafigura, a market leader in the global commodities industry, has agreed to invest in an all-in-one... Read more
(Posted on 17/11/23)
ADM and Marathon Petroleum Corp. have celebrated the opening of their joint venture soybean processing... Read more
(Posted on 13/11/23)
Former U.S. Grains Council (USGC) Director of Global Programmes Alejandra Castillo was named the successor... Read more
(Posted on 13/11/23)
Rio Tinto has completed the acquisition of PanAmerican Silver's stake in Agua de la Falda and... Read more
(Posted on 05/11/23)
Cargill has completed an expansion and modernization project at its integrated soybean crush and refined... Read more
(Posted on 31/10/23)
BHP has approved an investment of US$4.9 billion (C$6.4 billion) for stage two of the Jansen potash... Read more