New SAFEEN bulkers highlight demand for bulk services from UAE ports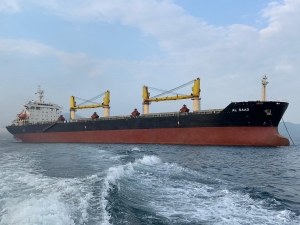 (Posted on 29/06/22)
Highlighting the high demand and growing business for dry bulk services linking UAE's ports globally, SAFEEN Feeders, part of AD Ports Group's Maritime Cluster, today announced acquisition of two Supramax vessels within a month.
Originally manufactured in 2010, AL SAAD has 57,124 deadweight tonnage with an overall length of 200 metres and a draft of 12.5 metres. The vessel is equipped with four cranes with a lifting capacity of 30 tons per crane. The addition of AL SAAD follows the acquisition of ALEENA-1, which was also developed in 2010.
Since being acquired, these ships have been deployed as part of a collaboration between SAFEEN Feeders and Saif Powertec Limited, in which both organisations have agreed to work closely together to facilitate trade and cargo services.
Captain Mohamed Juma Al Shamisi, Managing Director and Group CEO - AD Ports Group, said, "The arrival of AL SAAD and ALEENA-1 into our fleet marks a key milestone for AD Ports Group, highlighting the great opportunities and high demand for our bulk services from our ports hubs in Abu Dhabi and the UAE."
"In line with the leadership's vision to position Abu Dhabi as a vital hub for global trade, AD Ports Group is committed to rapid growth in the maritime services as part of its strategy to facilitate trade and economic growth, both regionally and across the globe. The acquisitions of AL SAAD and ALEENA-1 are a positive and constructive step in this direction as it aids in increasing partnerships and adding new shipping lines. Our fast-growing fleet of container and bulk vessels ensures our customers are offered reliable, cost-effective, and faster delivery of services that meet and expect their growing demands."
Captain Ammar Mubarak Al Shaiba, CEO of SAFEEN Feeders and Acting CEO of the Ports Operating Company at AD Ports Group, said, "We have made tremendous progress over the last couple of years and acquiring bulk ships is part of our long-term strategy to expand into different domains of the maritime shipping sector. Our focus remains on creating a large portfolio of maritime assets and services for our customers.
"The demand for maritime services within the UAE and the region is extremely high, and we have invested greatly in the last years to address future demands for our fast-growing customer base. We are committed to sustainable growth and long-term partnerships, and acquisitions of AL SAAD and ALEENA-1 are a step towards fulfilling that commitment."
Launched by AD Ports Group in 2020, SAFEEN Feeders provides feeder and dry bulk services linking Abu Dhabi to ports serving the UAE, the broader Gulf region, and the Indian Sub-Continent.
The service allows for the timely and efficient exchange of container cargo between mainliner vessels and ships within the rotation calling at nine regional ports located across the UAE, Saudi Arabia, Bahrain, Sudan, Iraq, Pakistan, and Western India.It is one of the subsidiaries of Maritime Cluster, one of the five clusters of AD Ports Group.
AD Ports Group's Maritime Cluster is part of AD Ports Group, an integrated portfolio of world-class ports, economic zones, maritime, logistics and digital businesses driving the growth of international trade. The Maritime Cluster provides a competitive trading environment with world-class trade, logistics, technologies, and advanced infrastructure that delivers efficiencies for our partners and customers. It comprises the largest portfolio of subsidiaries, offering integrated and tailor-made solutions and services that cater to customers' needs onshore and offshore.
Established in 2006, AD Ports Group today serves as the region's premier facilitator of logistics, industry, and trade, as well as a bridge linking Abu Dhabi to the world. Listed on the Abu Dhabi Securities Exchange (ADX: ADPORTS), AD Ports Group's vertically integrated business approach has proven instrumental in driving the emirate's economic development over the past decade.
Latest News
(Posted on 07/12/23)
ClassNK has issued Approvals in Principle (AiPs) for four cutting-edge ship designs developed by Marine... Read more
(Posted on 07/12/23)
A smartship partnership bringing together ship management company Laskaridis Shipping, digital technology... Read more
(Posted on 07/12/23)
ABB has launched a new digital tool allowing shipowners, operators and designers to estimate the emission... Read more
(Posted on 03/12/23)
The Dry Bulk and LNG segments have borne the brunt of restricted transits, particularly due to their... Read more
(Posted on 03/12/23)
Columbia Shipmanagement (CSM) is set to further boost operational efficiency on its vessels, as crew... Read more
(Posted on 26/11/23)
Shi.E.L.D. Services has selected Spinergie as its preferred digitized solution provider to monitor and... Read more
(Posted on 26/11/23)
Thousands of cadets and trainees in India will benefit from in-depth wellness training and support thanks... Read more
(Posted on 17/11/23)
As shipping continues its journey to decarbonisation, INTERCARGO will host a special forum in Athens... Read more
(Posted on 13/11/23)
INTERCARGO was deeply saddened and concerned to hear of the reported appalling missile attack on the... Read more
(Posted on 13/11/23)
A new-look Wellness at Sea Awareness Campaign for seafarers, their families and shore staff that &ldquo... Read more