New Partnership to Introduce DX11 Smart Termination Technology to the UK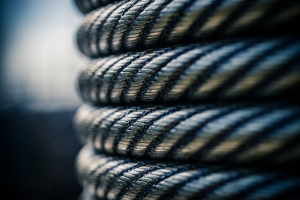 (Posted on 23/10/23)
Vesto Ropes, a global leader in innovative steel wire-rope solutions, has announced a strategic partnership with the Nectar Group, a prominent player in the maritime, dry-bulk and port industry, globally and located in the United Kingdom. Under this collaboration, Nectar Group will serve as the exclusive representative for Vesto Ropes, offering access to the groundbreaking DX11 Smart Termination technology in the UK.
DX11 Smart Termination technology, a patented innovation by Vesto Ropes, has revolutionized the wire rope industry. This state-of-the-art socketing method is designed to significantly extend the lifespan of wire ropes, providing enhanced safety, durability and terminal-efficiency. It has found wide-ranging applications across various industries, but it is particularly beneficial in the dry-bulk sector, where Nectar Group is an experienced operator.
Nectar Group, with its robust presence and deep-rooted expertise in the dry bulk industry, is ideally positioned to introduce the DX11 Smart Termination technology. This partnership aims to deliver advanced rope solutions to ports and terminals in the United Kingdom, promoting increased efficiency, safety, and reliability in their operations.
"We are thrilled to partner with Nectar Group to bring DX11 Smart Termination technology to the United Kingdom," said Tom Vermeulen Jr. the Founder of Vesto Ropes. "This collaboration aligns perfectly with our commitment to innovation and quality. Nectar Group's standing in the Ports and bulk industry and their dedication to excellence make them the ideal representative for our advanced rope solutions."
As dry bulk sector experts, Nectar is well-suited to identify and address the exacting needs in this industry with the DX11 product. The technology promises to be a game-changer for ports and terminals in the dry bulk field by enhancing the performance and longevity of wire ropes.
Glyn Mason of Nectar Group expressed their enthusiasm for this collaboration, saying, "Nectar Group is excited to represent Vesto Ropes in the United Kingdom. Our knowledge of the port cargo handling operations aligns perfectly with the benefits that DX11 Smart Termination technology brings. We look forward to providing our clients with the latest advancements in wire rope technology."
The partnership between Vesto Ropes and Nectar Group represents a commitment to offering innovative solutions. Together, they aim to create an industry-leading synergy that will drive progress and elevate safety standards.
Vesto Ropes' innovations have been embraced by industries worldwide for their superior performance and safety benefits.
Nectar Group is a UK company with global reach, specializing in dry bulk cargo handling, port services and terminal operations. Established in 1972, managing shipping projects and cargo operations in the UK to working in over 156 global locations across 75 countries. The group now handles over 10 million tonnes of cargo each year and employs over 400 people around the world.
Latest News
(Posted on 07/12/23)
In an initiative set to be transformational for ship design while protecting the oceans from pollution... Read more
(Posted on 03/12/23)
Ship design, particularly the design of bulk carriers, presents particular challenges when it comes... Read more
(Posted on 26/11/23)
VIKING Life-Saving Equipment, a global leader in maritime safety solutions, is launching an innovative... Read more
(Posted on 26/11/23)
Damen's client Gerdes Green has received a subsidy from the German Government for the investment... Read more
(Posted on 17/11/23)
A first of its kind training course for the Middle East has been held to teach mariners about the basic... Read more
(Posted on 13/11/23)
Wärtsilä ANCS, part of technology group Wärtsilä, has delivered to Seaspan, a marine... Read more
(Posted on 31/10/23)
The flag raising ceremony for three new ASD Tugs has taken place in Gdansk, Poland. In the presence... Read more
(Posted on 26/10/23)
A new immersive crane simulator that can recreate high-risk scenarios without putting drivers or other... Read more
(Posted on 23/10/23)
Bedeschi S.p.a. has been awarded a contract for the design and supply of a new longitudinal storage... Read more
(Posted on 18/10/23)
Rhenus Maritime Services (RMS) is adding a new coastal vessel to its fleet in the shape of the RMS Ruhrort... Read more