New green hydrogen project for Port Pirie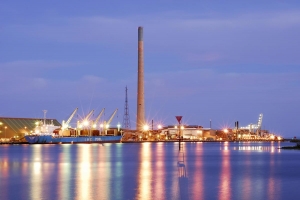 (Posted on 13/12/21)
Trafigura Group Pte. Ltd., one of the world's largest physical commodity trading companies, Nyrstar, a global multi-metals manufacturing business and the State Government of South Australia has announced a joint investment to progress plans to construct a commercial scale green hydrogen manufacturing facility in Port Pirie, a regional city north of Adelaide.
The AU$5 million Front End Engineering Design study for the Port Pirie Green Hydrogen Project, jointly funded by Trafigura and the South Australian State Government, will commence immediately, with a final investment decision to be made by the end of 2022. If approved, construction will commence in 2023.
At an estimated design and construction cost of AU$750 million, if approved, the Project is to be developed in a phased manner, initially producing 20 tonnes per day (tpd) of green hydrogen for export in the form of green ammonia. The full-scale plant will produce 100tpd of green hydrogen at full capacity from a 440MW electrolyser, enabling it to meet both export and domestic supply needs. The oxygen created in the production of hydrogen will be utilised by the Nyrstar Port Pirie smelter.
The project is planned to be integrated into Nyrstar Australia's metals recovery smelter at Port Pirie, using existing infrastructure to accelerate production of green hydrogen compared to developing a project on a new greenfield site. The Project will form the cornerstone of a new green hydrogen precinct in Port Pirie that will benefit local businesses and support the decarbonisation of transport and industry.
Trafigura will source 100 percent renewable energy to provide the electricity needed to run the Project's electrolyser, which will also contribute to decarbonising the existing smelter's power supply.
Trafigura General Manager – Australia, Tim Rogers said that the company was increasing its global presence in the fast-evolving renewable energy sector, and that the Project created a unique opportunity for the Spencer Gulf to participate in the growth of a new energy industry, creating the next generation of jobs for local communities.
"We are encouraged by governments' support of the hydrogen industry. With both State and Federal Government support, the Port Pirie Green Hydrogen Project has the potential to be a catalyst for new jobs and economic growth in the region, creating opportunities for existing local businesses to become part of the supply chain, attracting new talent, and encouraging new companies and industries to establish a local presence," he said.
"We are expecting significant early interest in becoming a part of the green hydrogen precinct with early potential for the region's heavy vehicle transport industry to investigate hydrogen refuelling options. In time, it is also expected that Trafigura will be working with mining and other energy-intensive industries across the State to explore the opportunities the precinct creates for them to decarbonise through the use of green hydrogen."
Nyrstar's Vice-President Australian Operations, Dale Webb, said that the Port Pirie Green Hydrogen Project would enable its business to take a significant step in improving its competitiveness in the international market for zinc, lead and other metals that it produces from its interconnected Port Pirie and Hobart smelters.
Latest News
(Posted on 26/11/23)
ADM, a leader in sustainable agriculture supply chains, has announced an important expansion of its... Read more
(Posted on 17/11/23)
Trafigura, a market leader in the global commodities industry, has agreed to invest in an all-in-one... Read more
(Posted on 17/11/23)
ADM and Marathon Petroleum Corp. have celebrated the opening of their joint venture soybean processing... Read more
(Posted on 13/11/23)
Former U.S. Grains Council (USGC) Director of Global Programmes Alejandra Castillo was named the successor... Read more
(Posted on 13/11/23)
Rio Tinto has completed the acquisition of PanAmerican Silver's stake in Agua de la Falda and... Read more
(Posted on 05/11/23)
Cargill has completed an expansion and modernization project at its integrated soybean crush and refined... Read more
(Posted on 31/10/23)
BHP has approved an investment of US$4.9 billion (C$6.4 billion) for stage two of the Jansen potash... Read more
(Posted on 31/10/23)
Rio Tinto and cable solution provider Prysmian are partnering to build a more sustainable North American... Read more
(Posted on 26/10/23)
The American Soybean Association has applauded the U.S. Department of Agriculture's efforts to... Read more
(Posted on 26/10/23)
Rio Tinto has appointed James "Joc" O'Rourke as a non-executive director with effect... Read more